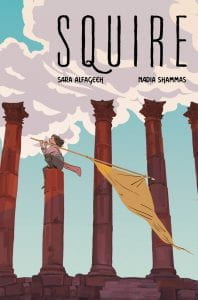 Alfageeh, Sara, and Nadia Shammas. Squire. Quill Tree Books, 2022. 978-0-062-94585-3. 336 p. $21.99. Grades 7-10.
As an Ornu, Aiza exists on the outskirts of the Bayt-Sajji empire. Her parents are content with their simple but restricted life, while Aiza longs for adventures beyond the borders of the Ornus' designated community. Opportunity arrives with an announcement that the Bayt-Sajji military is expanding its ranks, offering successful recruits the position of Squire and full citizenship in the Empire. Aiza's parents reluctantly agree to let her enlist, but ask that she hide her Ornu markings for her own protection. Recruitment involves intense physical training, history lessons, sparring, military strategy, and a general who rules with an iron fist. Aiza's scrappiness, zeal, and big personality serve her well in training (not so much in history lessons). With the help of a few key allies, she makes steady progress. When Ornu rebels ambush Aiza's patrol group, secrets and betrayals come to light and everyone must choose a side. Themes of heroism, loyalty, and identity are depicted through bold artwork with plenty of swordplay and action sequences. The author/illustrator team of Nadia Shammas and Sara Alfageeh include a must-read "Making of a Page" section that has insights into the script, artistic inspiration, and more.
THOUGHTS: Squire is a fast-paced read with depth, and the creators leave the door open for follow-up installments. It is a must-read for fans of Sabaa Tahir's An Ember in the Ashes series.
Graphic Novel          Amy V. Pickett, Ridley SD