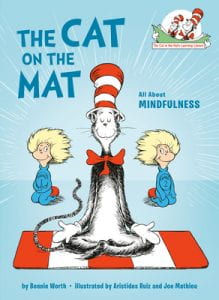 Worth, Bonnie. The Cat on the Mat: All About Mindfulness. Random House, 2021. 978-0-593-37935-6. 45 p. $9.99. Grades K-3.
The beloved Cat in the Hat is back, this time to give readers tips on managing all of the stressors life tends to throw at us. In an ode to mindful meditation, the Cat in the Hat encourages readers to just sit, breathe, listen to the sounds around them, feel each body part from the inside, and focus on the present. He goes on to explain some of the benefits of being mindful, such as learning to focus and listen better and learning to be kinder to oneself and others. All of this wisdom is presented in rhyming verse and accompanied by animated illustrations that readers have come to expect from the Cat in the Hat.
THOUGHTS: Considering all of the stressors thrown at us during the last couple of years, I would say this is a very timely book and a reasonable purchase for all elementary collections. Give it to Dr. Seuss fans, students who are in stressful situations, or fans of Cosmic Kids Yoga.
Picture Book          Julie Ritter