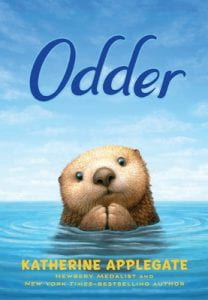 Applegate, Katherine. Odder. Fiewel and Friends, 2022. 978-1-250-14742-4. $16.99. 288 p. Grades 3-6.
Odder is a southern sea otter with a whole lot of spunk. Scared of nothing, and always on the move, Odder loves to play. She especially loves to seek out human connection. Separated from her mother as a pup, Odder was rescued and rehabilitated by humans who taught her how to be an otter and returned her to the ocean. When her daring personality endangers a friend, Odder attempts to challenge a young shark. Severely injured, Odder is once again rescued by humans, who fear that their intense interaction with Odder from a young age has bonded her to humans. Odder's endless fascination with humans has endangered her ability to survive in the wild. The rescue center decides she cannot be returned to the ocean. Once hunted for their fur, these adorable creatures are endangered. The humans realize they need to find a new way to rehabilitate abandoned and lost otter pups in order to save the species. Instead of having humans teach otters how to live in the wild, the center attempts to try to get Odder to adopt a newly abandoned otter pup. Though unwilling to mother the pup at first, Odder eventually befriends her young charge and teaches the baby otter how to be an otter and function in the wild. Based on the real-life stories of rescued sea otters at the Monterey Bay Aquarium in California. This is a beautiful story told in verse with delightfully detailed illustrations by Charles Santoso.
THOUGHTS: Applegate's story-telling is absolutely gorgeous. This is a very moving story of love, family, and the effect of humans on the creatures in our environment. Many opportunities for further learning about endangered species and marine biology. Includes a glossary and author's notes with suggestions for further study. Fans of Applegate's books will devour this selection! The release date for this book is September 20, 2022.
Animal Fiction          Anne McKernan, Council Rock SD