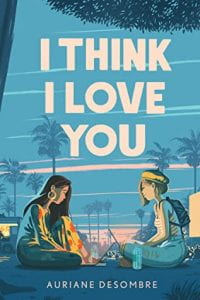 Desombre, Auriane. I Think I Love You. Underlined, 2021. 978-0-593-17976-5. $9.99. 309 p. Grades 9 and up.
Emma loves love, particularly romantic comedies. She wants to make film her life's work, and winning the NYC-LA Student Film Festival and a full scholarship to study film would convince her parents that it's a worthwhile pursuit. The fact that the love story she wants to tell is a female-female relationship is also important to her as it might finally help her come out to her parents as bisexual. Just as she enlists her friend group's help and is prepared to start making the gay rom-com of her heart, their friend Sophia comes back from spending a year in Paris and messes it all up. Not only have they never gotten along, as two of the only queer girls at school, classmates constantly try to pair them up, which is super annoying and cliche. Now Sophia, also a film geek, wants to enter the film festival too, but with an artsy, angsty film a-la Paris because she hates love, which is understandable after her parents divorced. The friend group splits into two film-making teams, and a rivalry ensues, but when the filming stops and Emma and Sophia are thrown together in social situations – some orchestrated by their friends – they can't help but see each other through a different lens… pun intended.
THOUGHTS: A loose retelling of Shakespeare's Much Ado About Nothing, this is a mostly lighthearted and fun queer romance told in alternating points of view. While some readers may find the subplot drama unnecessary and the way these friends treat each other frustrating at times, the main plot involving Emma and Sophia and the laugh-out-loud moments redeem its status as a solid choice for your LGBTQ+ students.
Realistic Fiction          Sarah Strouse, Nazareth Area SD