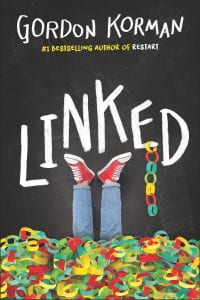 Korman, Gordon. Linked. Scholastic Press, 2021. 978-1-338-62911-8. 246 p. $17.99. Grades 5-8.
Chokecherry, Colorado is a small town on the up and up – could even be the next Orlando! While paleontologists from a prestigious university are attempting to locate dinosaur fossils after dinosaur poop is discovered, a swastika appears painted on an atrium wall in the local school. The principal is determined to put an end to the hateful act by starting a unit on tolerance and after three weeks is confident that the event was a one time thing. But when a second and a third swastika appear, it looks as if the past of Chokecherry may be coming back into focus. The students of the school take it upon themselves to support one another and learn more about the Holocaust in order to fight back. An idea to start a paper chain that is six million links long, one link for each person who died during the Holocaust, becomes their primary focus. Lincoln Rowley, the popular athlete, helps round the troops and with the help of the student council and art club presidents, their huge undertaking begins. But when a local media star shows up, hoping to expose the town's past while highlighting the paper chain, things get complicated. Told in different perspectives, this novel has twists and turns that will keep you reading!
THOUGHTS: Another hit by Korman, this title touches on a sensitive subject, antisemitism and the KKK. The characters each struggle with an inner demon which must be addressed before they can truly accept themselves and others. More somber than some of Korman's other works, Linked has a balance of humor, hope, and sadness for how others treat people that are different from them. 
Realistic Fiction        Jillian Gasper, Northwestern Lehigh Middle School