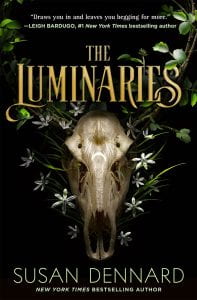 Dennard, Susan. The Luminaries. Tor Teen, 2022. 978-1-250-19404-6. $18.99. 304 p. Grades 9-12.
Hemlock Falls is not your average town. It's surrounded by a forest inhabited by nightmares and monsters. The town is kept safe by The Luminaries, an ancient order of hunters who protect the residents each night. Families that make up the Luminaries take turns hunting throughout the days of the week. Winnie Wednesday, of the Wednesday clan, is preparing to participate in the hunter trials. Although she is turning 16 and is eligible to participate, her family has been shunned by the Luminaries ever since her father was accused of being a witch and betraying them all. This is the only way that Winnie can restore her family back to the order, so Winnie must try, no matter how great the danger. Reluctantly, she accepts help from her former best friend, Jay Friday, one of the best hunters in the Luminaries. As Winnie trains for her hunter trials, she continues to learn about the nightmares lurking outside of her town, and when she encounters a new kind of monster, she'll have to convince the order that exiled her family that this new danger may be a threat to them all.
THOUGHTS: The Luminaries, the first of a new series, has a little bit of everything for readers. In this fantasy world, teenage hunters typically choose their roles rather than have it forced upon them but although they live in a town surrounded by monsters, their lives are quite ordinary. Action, adventure, and mystery await in this new, contemporary fantasy, and it's the perfect choice for readers looking to try something new.
Fantasy          Emily Hoffman, Conestoga Valley SD