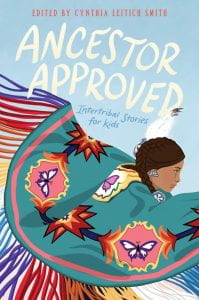 Leitich Smith, Cynthia (Editor). Ancestor Approved: Intertribal Stories for Kids. Heartdrum, 2021. 978-0-062-86996-8. 320 p. $16.99. Grades 4-12.
A team of Native authors combine to create this collection of short stories that seamlessly flow from one to the next. With overlapping characters and/or events from each and dances, foods, and beautiful handmade creations, these stories celebrate Native traditions at a powwow in Ann Arbor, Michigan. This collection demonstrates that those with differences (represented by the diverse tribes and ages at the powwow) can come together for a common goal.
THOUGHTS: A celebration of Native American identity, this collection is suitable for middle and high school libraries. Students will enjoy learning about the various traditions that make up a powwow.
Short Stories          Maryalice Bond, South Middleton SD
Realistic Fiction