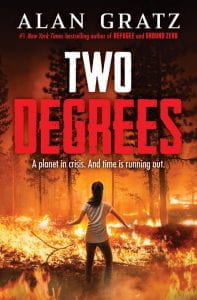 Gratz, Alan. Two Degrees. Scholastic, 2022. 978-1-338-73567-3. 365 p. $17.99. Grades 5-8.
In his newest book, blockbuster historical fiction author Alan Gratz takes on climate change, and hits it out of the ballpark. In a now familiar format, Two Degrees highlights three teenagers experiencing three different, yet equally devastating disasters incited by climate change. In the Sierra Nevada range of  California, Norwegian-Japanese-American Akira Kristiansen and her father are horseback riding when Akira spots a wildfire. Her father, a climate change denier, insists there is no concern, until they find themselves surrounded by flames. In Churchill, Manitoba, white Canadian Owen Mackenzie and his Indigenous buddy, George, are heading out on a weekend trip to George's family ice fishing cabin when they find themselves in mortal danger from a polar bear. In Miami, Puerto Rican Natalie, unhealthily obsessed with storms since terrifying Hurricane Irma just missed Miami a few years ago, is watching television weather reports of Hurricane Reuben when the category five storm suddenly changes direction, heading directly for Miami. The Big One is here. The point of view rotates between the three characters as tensions quickly mount. Akira, separated from her father, must try to outrun the wildfire and escort an injured girl to safety. After Owen makes a number of thoughtless mistakes, he and George find themselves fending off a hungry polar bear with limited resources, while Natalie, swept out of her home by surging flood waters, struggles to stay alive. In each situation, the teen comes to grips with how climate change is responsible for his or her dire situation. Gratz does an excellent job elucidating the chain reaction effects of climate change, particularly in Owen's story, where the connections are less obvious. In typical Gratz fashion, all three stories eventually intersect with an emotionally satisfying, soul-stirring conclusion. 
THOUGHTS: This book is a call to action on climate change. Students will be on the edge of their seats until the end of the book. The nonstop action makes it perfect for reluctant readers or those who need an immediate hook to grab their attention, as well as an excellent classroom read-aloud. A first purchase for libraries serving intermediate grade readers and older. 
Realistic Fiction                Nancy Nadig, Penn Manor SD