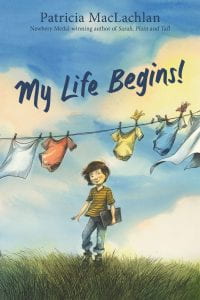 MacLachlan, Patricia. My Life Begins! Katherine Tegen Books, 2022. 978-0-063-11601-6. $16.99. 119 p. Grades 3-6.
Jacob is 9 years old. His greatest wish is to have a puppy, perhaps even a whole litter of puppies. Puppies are not in Jacob's immediate future, however. Jacob's mother is having triplets. Jacob refers to his newborn siblings as The Trips. The Trips don't do much at first. The family must dress them each in different colors to keep track of which is which. Jacob watches his exhausted parents as they feed, dress, and rock the triplets to sleep. When a school research project is assigned, Jacob decides to study the changes in the lives of the newborns as they grow and mature. He titles the project "A Litter of Trips – from Birth On" and begins to keep notes on their development. The early journal entries claim The Trips do nothing and are all the same. Then, one night Jacob is awakened by a crying baby. Knowing his parents could use a rest, Jacob realizes he can change and feed her himself. As he comforts Lizzie, he is rewarded with her first smile. Suddenly Jacob realizes that his newborn sisters each have a distinct personality. The Trips all have favorite ways to get attention. Char, the quiet one, will wave her hands excitedly when Jacob passes, Kath, the bold one, will make vocal noises, and Lizzie will smile and take Jacob's hand. As The Trips grow, so too does Jacob. He begins to realize he no longer thinks of the triplets as The Trips, but he is not sure exactly what to call them. When Mom returns to work, the family hires Mimi, an experienced mother of five, to help out. Mimi, who is adored by the entire family, sees Jacob's kind, caring nature. Mimi helps Jacob to understand "the girls" and himself. Jacob finishes his school report with an in class visit by the triplets, who he now refers to as his "sisters." Jacob comes to realize that as we mature our lives begin again and again with new experiences, new people, new skills and interests. Told partly in journal entries, and partly through narrative, this is a delightful look at the first year of life through the eyes of an older brother. Illustrated with great care by Daniel Miyares. 
THOUGHTS: An utterly delightful read that will resonate with children and adults alike. 
Picture Book          Anne McKernan, Council Rock SD