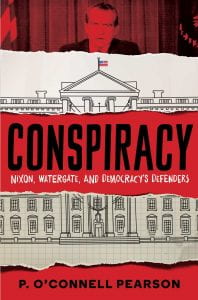 Pearson, P. O'Connell. Conspiracy: Nixon, Watergate, and Democracy's Defenders. Simon & Schuster, 2020. 978-1-534-48003-2. 277 p. $17.99. Grades 7-12. 
The Watergate scandal and resignation of President Nixon was a seminal moment in 20th century American History. Conspiracy relates information about the Watergate events and personalities in an accessible and straightforward manner that is highly readable. The book is arranged chronologically, starting with the Watergate break-in on June 17, 1972. Subsequent chapters follow the unfolding events and investigative process that ultimately revealed numerous abuses of power carried out by the Nixon administration. A major focus of the title is examining the role of Watergate heroes, individuals like reporters, judges, lawyers, elected officials, and average Americans, who worked to reveal the truth about Watergate-related criminal activity and cover-up attempts and to defend the rule of law. Key legal terms and governmental concepts/procedures are defined within the text. Back matter includes a bibliography, timeline of events, and cast of characters.
THOUGHTS: The Watergate scandal unfolded over a period of years and ultimately encompassed not only the Watergate break-in, but numerous crimes. Therefore, it can be a complex topic to explore and explain. Pearson does an admirable job in presenting these concepts in an accessible manner that will enable secondary students to gain a full understanding of the events and key players. Student researchers will find this book to be an invaluable resource, and it will also be of interest to history fans.
973.924 American History          Elizabeth Henry, Lampeter-Strasburg SD