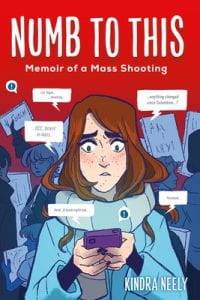 Neely, Kindra. Numb to This: Memoir of a Mass Shooting. Little, Brown and Company, 2022. 978-0-316-46208-2. 304 p. $24.99. Grades 8-12.
The impact of a mass shooting continues long after the crime scene has been restored and the headlines pivot to a new story. Kindra Neely learned this firsthand after she survived a mass shooting at Umpqua Community College in Roseburg, Oregon, which left ten people dead and as many injured. (Ironically, Kindra's mother had relocated them to Oregon in part to escape the gun culture/violence in their small Texas town.) After graduating from UCC, Kindra attempted suicide when her feelings of pointlessness and numbness overwhelmed her. She kept this attempt secret for years. Later, after matriculating at Georgia's Savannah College of Art and Design, she continued to suffer from racing thoughts and panic attacks as a result of the trauma she had experienced. Ongoing news alerts to other mass shootings re-traumatized her time and again. Eventually, she began to heal and found a way to use her artwork to share her story. The end result is this lovely, introspective graphic memoir in which Kindra bravely shares her survivor's journey. The color palette is generally cued to Kindra's emotions; in particular, depictions of her panic attacks are visceral and vivid. She includes moments of despair, anger, hope, and gratitude. She also includes resources for gun violence survivors and suicide prevention. 
THOUGHTS: This graphic memoir deserves a spot in every library for teens. As mass shootings continue, sadly the need for survivors to voice their stories will, too.
Graphic Novel          Amy V. Pickett, Ridley SD