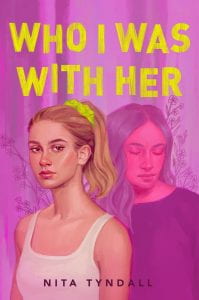 Tyndall, Nita. Who I Was With Her. HarperTeen, 2020. 978-0-062-97838-7. $17.99. 385 p. Grades 9 and up.
Corrine Parker arrives at school one morning to overhear her cross country teammates talking about how their rival school's team captain, Maggie – who happens to be Corrine's girlfriend – died the previous night in a car accident. This is tragic enough on its own. But Corrine is not out, and she and Maggie were dating in secret. This means Corrine can't even genuinely express her grief when she hears the news or talk to anyone about it. Living in a conservative area of North Carolina, Corrine never felt ready to come out to anyone, so she feels she can't talk to her divorced parents – especially her alcoholic mother – or her best friend Julia. The only person she can talk to is Dylan, Maggie's older brother and the only other person who knew the two were dating. And even Dylan is not an optimal confidant – he and Corrine had a rocky relationship while she was dating his sister. What Dylan does do for Maggie is introduce her to someone else to talk to: Elissa, Maggie's ex-girlfriend who she dated prior to Corrine. It's complicated even to talk to Elissa, though. Why hadn't Maggie ever mentioned her? Why did Dylan have a good relationship with Elissa and not her? And why does she find herself starting to feel an attraction to Elissa?
THOUGHTS: This is not a typical coming out story given the circumstances. The complexities of Corrine and Maggie's secret relationship and Corrine's struggles to deal in the aftermath of Maggie's death are told in an alternating timeline format back and forth from their year-long relationship prior to the accident to the present months following her death. It's also a very unique grief story as Corrine struggles with it primarily on her own, so it understandably gets messy at times. The novel also touches on addiction, college admissions pressures, and asexuality through subplots and supporting characters. Overall, recommended addition to collections where the demand for LGBTQIA+ literature, particularly bisexual protagonists, is high.
Realistic Fiction                              Sarah Strouse, Nazareth Area SD