Kvasnosky, Laura McGee. Little Wolf's First Howling. Candlewick Press, 2017. Unpaged. 9780763689711. $15.99. Gr. K-2.
This is a delightful tale of a young wolf who sets out with his father to make his first howling at the top of the hill.  His father shows him the proper technique, but Little Wolf cannot help adding his own unique touch at the end. First he howls, "I'm hooooowling," but then gets more creative with the addition of "dibbity dobbity skibbity skobbity skooo-wooooo…".  Despite his father's admonishment to use the correct form, Little Wolf includes even more interesting phrasing.  Big Wolf then realizes that he likes his son's originality and father and son howl in unison in an unwolflike style.  McGee's full bleed illustrations are done in gouache resist and then colored with Photoshop.  The illustrator has created a mountainous landscape set from dusk to evening with its full moon and starry sky. Kvasnosky's simple message is that we need to be true to ourselves.  THOUGHTS: Children will enjoy this tale of the two wolves, who are very appealing and almost cuddly.  This book makes for a great read aloud and will work in character units. A worthy addition to elementary collections.
Easy Picture Book       Denise Medwick, West Allegheny SD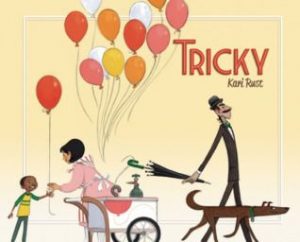 Rust, Kari. Tricky. Owlkids Books, 2017. 978-1-77147-252-4. $16.95. Unpaged. Gr. K-2.
Tricky is a dog that is often up to no good, mostly because of his dubious owner named The Duke. Whether tripping or tricking or stealing or just causing mischief, The Duke and Tricky are a team that has few scruples and revels in their misdeeds. All that begins to turn when Tricky meets a new baker in town who offers him some kindness and a treat. Filled with warmth and a growing conscience, "Tricky realized that what they were doing was WRONG." But, is it too late for this old dog to learn a new trick? And, how will he get The Duke to see the error of their ways? Kari Rust's debut picture book is full of engaging, humorous characters and well designed drawings that allow the reader to empathize and emote as the story unfolds. The text, and the moral lesson, are simple yet effective, and hopefully Tricky and The Duke will both mend their ways. THOUGHTS: The hand drawn, computer colored illustrations would pair well with The Adventures of Beekle by Dan Santat. Plus, the details in the pictures jump out more and more with repeated viewing. This short text would also be great for a lesson on point of view or caricature or inferencing.
Picture Book        Dustin Brackbill, State College Area SD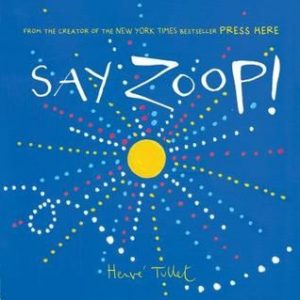 Tullet, Herve. Say Zoop!. Chronicle Books, 2017. 978-1-4521-6473-1. $15.99. Unpaged. Gr. K-2.
Following the fun success of interactive books such as Press Here and Mix It Up! comes the newest picture book by Herve Tullet. This time we follow simple blue and red dots and build some 'Oh' and 'Ah' sounds to match them. The patterns and sequences on each page are nicely mixed with imagination and variety to keep the reader guessing and practicing. When the yellow 'Waahoo!' joins the mix, we are all in for the creative musical mess that follows! As the book ends, "Doesn't that make you want to try mixing it up into some completely new sounds?" Tullet has another hit on his hands, and young readers have another vocal colorful adventure to explore!  THOUGHTS: This series has also worked well for me with some autistic readers who crave tactile stories, especially with built-in sound effects! A music teacher could also easily incorporate this book into a lesson about volume, pitch, patterns, or more.
Picture Book        Dustin Brackbill, State College Area SD
Kang, A.N. Papillon Goes to the Vet. Hyperion, 2017. 978-148472881-9. $16.99. Unpaged. Gr. K-2.
Papillon is back! Previously seen in A.N. Kang's debut, Papillon, The Very Fluffy Kitty, Papillon is a cat so fluffy that he can fly. As the second book opens, Papillon is enjoying life and playing catch with his bird friend. As they are playing with a small stuffed mouse, Papillon accidentally swallows the stuffed toy. This causes Papillon to feel sick and to develop constant hiccups. Worst of all, he is no longer able to float in the air! Miss Tilly, his owner takes him to see the vet. Admitted to the vet clinic for an overnight stay, Papillion is feeling sick, lonely and scared, when his hiccups cause him to burp up the swallowed toy. Able to float once more, Papillon takes to the air to show off his dancing and singing ability, which wows the fellow cats at the vet clinic. The next day, he returns home, looking forward to playing once more (but this time, with his mouth closed). THOUGHTS: This engaging book would be a good choice for a read-aloud story. Readers will be able to relate to Papillon's stress and uncertainty when he is sick. Kang's watercolor, color pencil, ink and Photoshop illustrations bring Papillon's exuberance and joyful spirit to life. Not just for cat lovers, Papillon Goes to the Vet is a story that all readers can enjoy.
Picture Book      Elizabeth Henry, Lampeter-Strasburg School District