Bracken, Alexandra. Passenger. Los Angeles: Hyperion, 2016. 978-148471577-2. 486 pp. $17.99. Gr. 8 and up.
Etta Spencer's world revolves around her budding violin career, until the night of a high-stakes performance at the Met when she is unexpectedly thrust into a portal that delivers her to 1776, aboard a ship that has recently been seized by pirates, no less. Etta is descended from a long line of time travelers, and while she receives a crash course in temporal passages from her fellow traveler Sophie, she is also instantly drawn to the dashing pirate (and freed slave) Nicholas. Etta soon learns that her mother Rose has been taken hostage by the Grand Master of travelers, Cyrus Ironwood. In order to rescue Rose, Etta must go on a scavenger hunt of sorts to London, Paris, Cambodia, and Damascas — across various timelines — to locate a coveted astrolabe that can actually create new passages through time. Nicholas accompanies her as a protector, partner, and love interest. Though the premise is stellar, the book is oddly slow-paced at times. Several long chapters could easily be summarized in just a sentence or two because Bracken includes too much exposition and too little forward momentum as she sets up the second installment in the duology; Wayfarer is due in 2017. THOUGHTS: Despite the novel's inconsistent pacing, it has a lot going for it. Lush historical settings, feminist commentary, unsettling racist comments, and a swoon-worthy romance all practically overflow from its pages and will hold readers' interest until the cliffhanger ending.
I was very excited to read Passenger as part of the January "Booksplosion" online book club with some of my favorite BookTubers. I would not recommend the audiobook version, which would have been far stronger with a male narrator for Nicholas' chapters.
Historical Fantasy    Amy V. Pickett, Ridley High School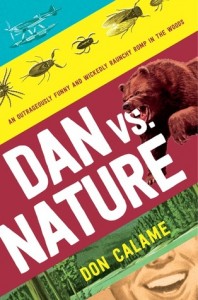 Calame, Don. Dan Versus Nature. Somerville, MA: Candlewick Press, 2016. 978-0-7636-7071-9. 384 p. $17.99. Gr. 7 and up.
As a long-time fan of Don Calame's Swim the Fly series, I was thrilled to discover that he had a new book slated to arrive in 2016, and Dan Versus Nature does not disappoint! Calame brings his signature brand of cringe-inducing hilarity to the story of Dan Weekes. Dan spends his time working on his graphic novel, crushing on Erin, hanging out with his germaphobic best friend Charlie, and avoiding getting stomped by the wrestling team. He is horrified to learn that his mom has gotten engaged to outdoorsy dentist Hank, and even more horrified when he finds out that she has booked her "two favorite men" on a one-week wilderness survival adventure. With the help of Charlie (and Calame's unflagging willingness to play his protagonist's biological functions for laughs), Dan uses the week in the woods to launch a campaign of annoyance, pranks, and embarrassing heart-to-hearts in an attempt to scare Hank away for good. The presence of cute Veronica on the trip complicates both Dan's pranking agenda and his loyalty to Erin. A bush plane with a failing engine, a relentlessly curious bear, angry wasps, and syrup of ipecac will keep readers giggling and turning the pages. THOUGHTS: Dan Versus Nature is fast-paced, funny, and perfect for booktalking with 9th graders!
Realistic Fiction; Humor            Amy V. Pickett, Ridley High School