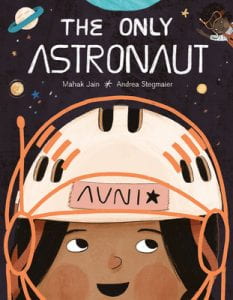 Jain, Mahak. The Only Astronaut. Kids Can Press, 2023. 978-1-525-30736-2. $19.99. Grades PreK-2.
Avni loves that she is the only astronaut in her special space station. With it only being her, she gets to make all the decisions – what missions will she travel on, when will she leave, and what will she take with her. At times though it can be hard being the only one in your own space station, such as when your rocket ship breaks down or there are too many tasks to do. Avni makes an important decision: she needs to find an assistant! Will she be able to find an assistant up for the task?
THOUGHTS: A fun imagination story! Two heads can be better than one, leading to new missions to different places!
Picture Book