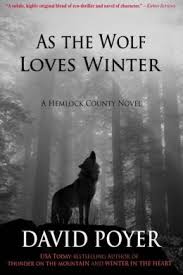 Poyer, David.  As the Wolf Loves Winter. Charleston: Northampton House Press, 2014. 978-1-56895-379-3. $26.00. 323p. Grades 9 and up.
W.T. "Racks" Halvorsen knows the Kinningmahontawany, the most remote and isolated section of the forest, better than anyone else in town.  At a young age, he hunted and trapped in the forest and pumped oil from the ground as a grown man.  Now retired, he ventures into the forest for one last hike.  Some would call it closure, but Halvorsen senses an inexplicable mystery lurking somewhere in the deep, melancholy woods.  What he discovers will change lives forever, but only if he manages to escape from the ominous predators and live long enough to share his new-found discovery.  
Interwoven around Halvorsen's story is Becky's.  It's hard to make friends when you move around, but practically impossible when a click of mean kids ostracize you.  Sometimes her stepdad appears indifferent, and her mother is preoccupied with Jammy's illness. When Becky recalls a fairytale she used to tell Jammy at night, she ventures into the same woods looking for answers sometimes only found in fantasy.
The adventure and mystery are brought to life through captivating similes, and the raw beauty of the woods is reflected in the powerful figurative language.  Wolves have lived in the sinister woods of fairytales and haunted our nightmares since the dawn of time, but what if there was more to their story?
Mystery                       Christine Massey, JW Parker Middle School
As the Wolf Loves Winter is the third book in the Hemlock County series by David Poyer, a Pennsylvania native.  The series is set in Northwestern Pennsylvania.  It is a great PA author book to add to your collection.