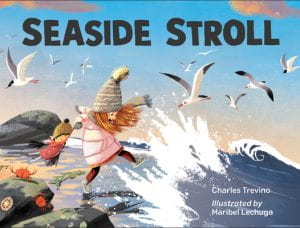 Trevino, Charles. Seaside Stroll. Charlesbridge, 2021. 978-1-580-89932-1. 32 p. $16.99. Grades K-3. 
Bundle up, and prepare for a seaside walk…in the winter! This beachy tale is even more unique because it uses only words beginning with the letter "s." A little girl, her doll, and her mother layer on their warmest clothes for a wintery walk to the seashore. From snow on the sand to flocks of seagulls, there's lots to look at on a wintery afternoon. But, when the little girl slips on the rocky side of a tidepool and the doll splashes in, will the day be salvaged? Trevino, the author, was inspired by American Sign Language (ASL) poetry when he created the structure for this text. In his author's note, he describes how the story reads like a poem, and its rhythm and pace are designed to capture the wonder of exploration and discovery. Additional backmatter includes a list of things to look for if you visit a beach in the winter, including birds, wintery cloud formations, animals in tidepools, and snow and sand sculptures.
THOUGHTS: This gentle text shares a unique perspective of the beach during the off-season. It's full of sensory words, so teachers could task students with listening carefully for them as the story unfolds. This will be an unexpected addition to wintery storytimes.
Picture Book          Anne Bozievich, Southern York County SD