Nijkamp, Marieke. Before I Let Go. Sourcebooks Fire, 2018. 978-1-492-64228-2. 368 p. $17.15. Gr. 10 and up.
Returning to Lost Creek, Alaska, for her best friend's funeral after moving away several months ago, Corey is devastated. She never found the words to tell Kyra that there was a great big world outside of Lost, and now she'll never have the opportunity. Guilt-ridden over never responding to Kyra's letters, Corey doesn't know what to expect in Lost. Lost isn't what she remembers, and neither are the people that live there. The town that she once loved and that loved her seems like it's hiding something. Determined to uncover the truth about Kyra's death, Corey sets out on her own. Desperate to find answers before her return to Winnipeg and terrified for her safety, Corey races against the clock before her flight departs. Told in present tense, letters sent and unsent, and flashback narratives written in play format, Corey's and Kyra's stories unfold as Lost fights to keep its secrets.  THOUGHTS: The remote Alaskan wilderness amps up the creepy factor in this mystery. Through the emphasis on Kyra's storytelling, readers will be compelled to learn what actually happened to her, but they may not feel fully invested in the novel, as the characters lack depth. Though identity and mental health issues are addressed, they are not at the center of the story. Before I Let Go is a good read for mystery fans and those interested in exploring the ways mental illness affects one's life and experiences.
Mystery; Realistic Fiction    Maryalice Bond, South Middleton SD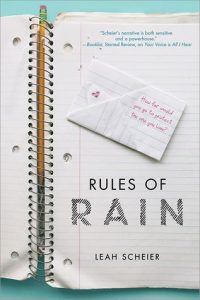 Scheier, Leah. Rules of Rain. Sourcebooks Fire, 2017. 978-1-492-65426-1. 384 p. $10.99. Gr. 10 and up.
The connection between twins can be unique. Add into the mix one twin has autism, and the dynamics are even more complicated. Rain's entire life has revolved around her brother and helping him navigate the world. She has been Ethan's voice and rock for so long that she knows no different.  Now teenagers, Rain and Ethan are beginning to grow into themselves and somewhat apart from each other. She is interested in cooking and blogging about obscure recipes, while he is fascinated by the inner workings of the human body. Rain and Ethan experience many firsts and learn a lot about each other and themselves. While Ethan seems to be thriving in his independence, it is Rain who begins to unravel. THOUGHTS: This is more than a coming of age story, and there are a lot of issues involved. At the heart of the novel twins are learning as much from each other as the world around them. Their twin/sibling relationship, autism, family dynamics/relationships, parent/child roles, divorce, bullying, underage drinking, as well as teen relationships (friendship and romantic). While other issues are present, to say more would spoil the surprise. Teens with complicated home lives and/or challenging sibling dynamics will like this character-driven novel. Some mature content makes this book more suited for high school readers.  
Realistic Fiction      Maryalice Bond, South Middleton SD
Mathieu, Jennifer.  Moxie.  Roaring Brook Press, 2017.  978-1-62672-635-2. 330 p.  $17.99.  Gr. 9-12.
Unlike her mother, who was a rebellious teenager, Vivian Carter has always kept to herself and followed the rules.  However, after witnessing incident after incident of sexism in her conservative Texas high school, none of which are corrected by the administration, she decides to take matters into her own hands.  Inspired by her mother's Riot Grrrl zines of the nineties, Vivian creates and distributes an anonymous zine around her school, calling for all girls to take action in protest.  The movement gradually grows, with more and more girls participating in each new protest and some girls even taking their own actions to improve the misogynistic environment.  Inspiring and empowering, readers will keep turning pages in order to find out what the Moxie girls are going to do next–and whether or not they will be successful in changing their school's culture. THOUGHTS: Because of its strong emphasis on feminism, I would recommend this book to teenage girls and/or those who enjoy reading fiction with strong female protagonists.  The novel would also be an excellent supplement for a social studies unit on women's history, women's rights, and/or social activism.  It would be sure to spark discussion and may even inspire students to conduct further research on the Riot Grrrl movement of the nineties.
Realistic Fiction      Julie Ritter, Montoursville Area SD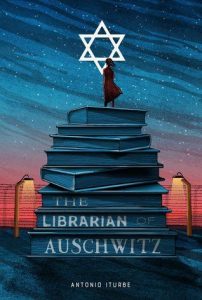 Iturbe, Antonio. The Librarian of Auschwitz. Translated by Lilit Thwaites. Henry Holt and Company, 2017. 978-1627796187. 432 p. $19.99. Gr. 9-12.
Spanish author Antonia Iturbe tells a fictionalized story of the little-known "Librarian of Auschwitz," a young girl whose task it was to protect the few books in the possession of Jews in the Auschwitz concentration camp. Dita Kraus arrives at Auschwitz after living in the Terezin Ghetto, and is "lucky" enough to be sent to the family camp instead of directly to the gas chambers. In this part of the camp, there is a school run by Freddy Hirsch, who sees in Dita a strong young woman willing to protect their beloved texts. The story moves back and forth between Dita's life in the ghetto, the lives of other prisoners and Jews, and the backstory of the enigmatic Hirsch. The novel starts out slow and on occasion the language seems a bit stunted (which might be a result of reading it as a translation). However, the story and characters do shine through, and the reader becomes engrossed in this story of both the cultural and physical survival of a people. THOUGHTS: Highly recommended for high schools, especially to complement memoirs and other readings about the Holocaust.
Historical Fiction    Lindsey Myers, Shadyside Academy