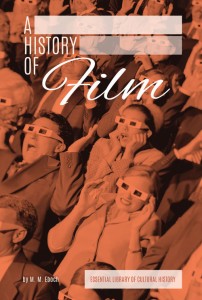 Essential Library of Cultural History (series). Minneapolis: ABDO, 2015. 112 p. $24.95 ea. Gr. 6-10.
Bailey, Diane. A History of Dance. 978-1-62403-552-4.
Eboch, M.M. A History of Film. 978-1-62403-554-8.
Eboch, M.M. A History of Television. 978-1-624-3-556-2.
Moore, Shannon Baker. A History of Music. 978-1-62403-555-5.
Perdew, Laura. A History of Art. 978-1-62403-551-7.
Rissman, Rebecca. A History of Fashion. 978-1-62403-553-1.
The goal of the Essential Library of Cultural History series is to explore some of the most popular forms of arts/entertainment in Western culture. Each volume concisely discusses the history of an art form and its historical and continuing impact on culture.  Sidebars present throughout the text highlight key concepts, figures, and movements within the art form under discussion.  Numerous full-text photos and illustrations supplement the text.  A timeline of major historical developments is also included.  THOUGHTS: This accessible series offers a good introduction to some of the most popular art/entertainment forms in America today. The volume reviewed for this review, A History of Film, was written at an accessible level appropriate for both middle and high school readers.  Large margins and line spacing make the text easy to read.  This is series is appropriate for both casual readers as well as researchers needing a general overview material.
700s Arts            Elizabeth Henry, Lampeter-Strasburg HS/MS
Essential Literary Themes (series). Minneapolis: ABDO, 2016. 112 p. $24.95 ea. Gr. 7-12.
Anderson, Jennifer Joline. The Antihero. 978-1-62403-501-3.
Bacher, Lindsay. Biblical Allusions. 978-1-62403-802-0.
Bodden, Valerie. Coming of Age. 978-1-62403-803-7.
Bosco, Maryellen Lo. Fall from Grace. 978-1-62403-804-4.
Burling, Alexis. The Hero. 978-1-62403-805-1.
Combs, Maggie. Love. 978-1-62403-806-5.
Hamen, Susan E. The Quest. 978-1-62403-807-5.
Ray, Caitlin. Revenge. 978-1-62403-808-2.
The eight book series Essential Literary Themes explores some of the most popular recurring literary themes present in literature, poetry, and film.  Each volume selects four works of literature, poetry, or film and offers a chapter long overview of each work. Each work is also the subject of a separate analysis chapter in which the work is connected to an aspect of the overall theme.  Sidebars breakdown and explain the thesis statements and supporting arguments present in the analysis.  Other potential analysis and essay options are presented, offering the reader suggestion for further exploration of the work/theme.  An overview of how to write/construct analysis style essays is also included.  THOUGHTS:  This series is a worthy addition to any secondary school where literary (or film) related research is conducted.  The text is easy to understand and accessible to all teens.  The analysis chapters and well as suggestions offered for further analysis will no doubt spark inspiration for students searching for essay topics on the selected works presented.    
810 Literature       Elizabeth Henry, Lampeter-Strasburg HS/MS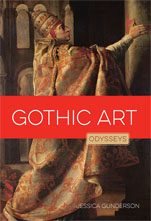 Odysseys in Art. Mankato, MN: Creative Education, 2016. $29.95 ea. 80p. Gr. 7 and up.
Fitzpatrick, Anne. The Baroque Period. 978-1-60818-530-6.
Fitzpatrick, Anne. Late Modernism. 978-1-60818-534-4.
Fitzpatrick, Anne. The Renaissance. 978-1-60818-536-8.
Gunderson, Jessica. Gothic Art. 978-1-60818-532-0.
Gunderson, Jessica. Impressionism. 978-1-60818-533-7.
Gunderson, Jessica. Realism. 978-1-60818-535-1.
Gunderson, Jessica. Romanticism. 978-1-60818-537-5.
Robinson, Shannon. Cubism. 978-1-60818-531-3.
Each title in the Odysseys in Art series breaks down the specific movement into the history of the movement, the cultural impact, important artists from the period, how various art forms changes and morphed based on the previous period, and the impact of the period in modern culture.  Each book includes single and double page color prints (and black and white) of specific pieces from the period and artists.  Significant whitespace surrounds text to make it more user-friendly for student researchers.  Each text ends with a timeline of the period covered, bibliography, glossary, and index.  THOUGHTS:  This is a great series for art history and/or European history research.  It will also work well for foreign language courses when studying culture.
709 Artistic Movements       Erin Parkinson, Lincoln JSHS, Ellwood City