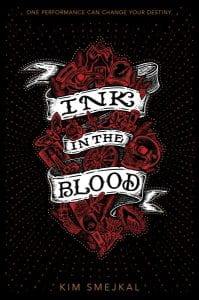 Smejkal, Kim. Ink in the Blood. Houghton Mifflin Harcourt, 2020. 978-1-328-55705-6. 442  p. $17.99. Grades 9-12. 
Celia and Anya were chosen by the Divine. Inked on the ankle with a thin band, a band that appeared out of nowhere, the girls were marked for service. Once a mark appears a child leaves their family, their community, and everything they've ever known to answer the Divine's calling, a life spent inking magical tattoos on strangers that would direct them to their destinies. But this life is not all it's cracked up to be; there are flaws in the system, loopholes to be exploited, and Celia and Anya must find a way out. When an opportunity arises to escape, to join a close-knit troupe of performers as they travel the land, the girls jump at the chance. Despite a lack of theater skills and nothing to perform, the girls audition using an act featuring an angel and a devil, a performance so good not only will they become members but they'll eventually incite riots and incur the wrath of the Divine herself.
THOUGHTS: Ink in the Blood is a fantastical tale of the connections that rule our lives, the bonds we form that define us, and the strength it takes to change.
Fantasy (Magic)          Samantha Helwig, Dover Area SD