Markle, Sandra.  The Great Leopard Rescue: Saving the Amur Leopards.  Millbrook Press, 2017. 9781467792479. 48 pp. $23.00. Gr. 3-6.
"In 2007 only thirty Amur leopards remained in the wild" (Back cover).  Markle's narrative on the Amur leopard is a fascinating look into the preservation efforts designed to save this endangered animal.  The author begins by presenting the dramatic story of a leopard on the hunt, and its efforts to escape from a forest fire. She then gives facts about the animal's habitat and behavior and explains the reasons why this wild cat is facing extinction.  The stunning photographs and detailed maps aid the reader's understanding of the issues. Markle's main focus is on the scientists and their tactics.  She shows us how scientists, veterinarians, zookeepers and the government work together to find ways to increase the leopard population.  Some of these methods include scat analysis to identify feeding patterns, tracking collars, vaccination against disease, forest fire management and zoo breeding.  Children will enjoy reading about how young leopard cubs are taught about tiger avoidance.  This book is an excellent resource to show how scientists collaborate in order to solve problems and achieve their goals. While the topic of scientific inquiry is also covered in the Scientists in the Field series, this book is more accessible to younger readers in its book design and readability. Readers curious to learn more can follow the program's progress on the Amur Leopard and Tiger Alliance website, as listed in the author's note. The back matter includes a timeline of the preservation efforts, a glossary, source notes and suggested reading.  THOUGHTS:  Markle's text will work well in STEM units and budding scientists and animal lovers will find this book hard to put down. A first purchase for elementary library collections.
Endangered Animals                Denise Medwick, West Allegheny SD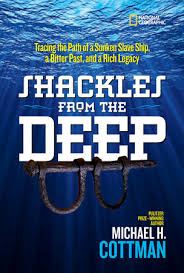 Cottman, Michael. Shackles from the Deep. Penguin Random House, 2017. 978-1-42632-663-9. $17.99. 128p. Gr. 5-8.
The slave ship Henrietta Marie sunk off the coast of Florida in the early 1700s. For over 300 years it rested on the ocean floor until little was left but the cannon, ship's bell, and iron shackles. Pulitzer prize winning journalist and scuba diver, Michael Cottman, researched the Henrietta Marie from the foundry in England where the shackles were made, to Senegal's Goree Island and the "Door of No Return," which was the last place slaves saw before they boarded slave ships bound for the Caribbean and the United States. He ends up in Jamaica which is where the slaves on the Henrietta Marie were shipped. At each of the places Cottman uses his journalist skills and personal interest to dig deeper into what it might have been like during the 1700s when the Henrietta Marie, her crew, and cargo were making the harrowing 3-month journey. THOUGHTS: This is a fascinating story about the history of the slave ship Henrietta Marie and all the lives that were touched by its existence. I did book clubs with Shackles from the Deep with 8th graders this past year, and this book sparked many discussions about slavery. This book is an excellent NF book to integrate into middle school Social Studies curriculum. It includes color photographs of the artifacts.
382.4409, Slave Trade      Bridget Fox, Central Bucks SD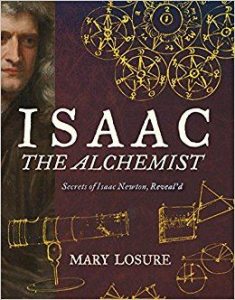 Losure, Mary. Isaac the Alchemist: Secrets of Isaac Newton Reveal'd. Candlewick Press, 2017. 978-0-7636-7063-4. $19.99. 163p. Gr. 4-8.
The genius that is Isaac Newton is brought to life by Losure. Her thorough research shines throughout the book, and her gentle writing introduces the reader to the lonely, inquisitive, driven boy who developed modern physics and invented calculus. Abandoned by his mother at the age of three, Newton spent years moving between various homes. Fortunately, in his formative years he received some education and access to books, which jumpstarted his prodigious curiosity. Losure masterfully combines the facts of Newton's life with information about the 17th century, the time period in which he lived. Superb use of images, including reproductions of Newton's youthful journals, add to the physical delight of this book, and details like young Newton's list of sins will engage readers. THOUGHTS: This excellent non-fiction text is wonderful leisure reading as well as a solid biography for research or introduction to primary sources.  
Biography     Nancy Nadig, Penn Manor SD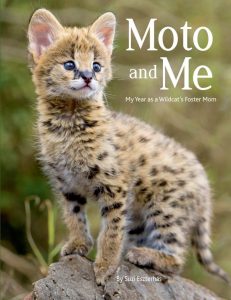 Eszterhas, Suzi. Moto and Me: My Year as a Wildcat's Foster Mom. Owlkids Books, 2017. 978-1-77147-242-5. 38 pp. $17.95. Gr. 2-5.
Meet the adorable serval Moto, who was orphaned in a savanna grass fire when he was just a baby. Rangers in Kenya's Masai Mara game reserve acted quickly to place helpless kitten with wildlife photographer Suzi Eszterhas. She lovingly, patiently fostered Moto and helped him hone the skills he would need to thrive in the wild: grooming himself, hunting, and eluding predators. This wonderful memoir describes the year that they spent together before Moto successfully returned to his natural habitat. It's touching without being overly sentimental, and the photographs of Moto are the real star of the show. Moto and Me concludes with a list of facts about servals, which will hopefully inspire readers to learn even more about them; this San Diego Zoo article is a great starting point. THOUGHTS: This must-purchase is a strong match with STEM topics and will be great fun to booktalk!
599.75; Wildlife      Amy V. Pickett, Ridley School District