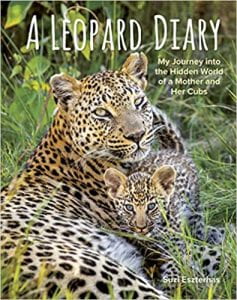 Eszterhas, Suzi. A Leopard Diary: My Journey into the Hidden World of a Mother and Her Cubs. OwlkidsBooks, 2022. 978-1-771-47491-7. 40 p. $18.95. Grades 2-6.
Wildlife photographer Suzi Eszterhas, author of Moto and Me, returns with A Leopard Diary! Eszterhas specializes in photographing baby animals, and she jumped at the chance to photograph a female leopard and her two cubs in Botswana's Jao Reserve, located in the Okavango Delta. In A Leopard Diary she has compiled her diary of the adventure, from the day she arrived at the Tubu Tree Camp through various return trips over the next two years. Her diary entries conversationally document the female cubs' development, accompanied by full-color photos and lively page spreads that showcase their journey from cubs to sub-adults. The narrative culminates in the arrival of the Camp Female's new baby, a male cub. As in all of Eszterhas's books, the photographs are the star of the show. Many include captions that further explain the scenes so skillfully captured by her camera. The closing pages include an interview with Kambango (a guide and tracker who works in the reserve), information on Children in the Wilderness, and a useful list of Words to Know. 
THOUGHTS: The author's love of both her profession and the wildlife she photographs shines through on every page. Readers will come away from A Leopard Diary with a new understanding of these big cats and their "hidden" lives in the bush.
599 Wildlife          Amy V. Pickett, Ridley SD