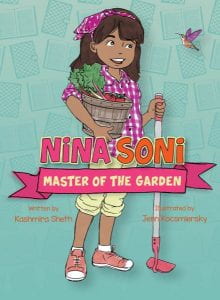 Sheth, Kashmira. Nina Soni: Master of the Garden.  Peachtree, 2021. 978-1-682-63226-0. $7.99. 179 p. Grades 2-4.
Fourth grader Nina is very excited to finally get a warm and sunny Take Your Daughters and Sons to Work Day in frigid Wisconsin.  This means she and her sister and friend will get to plant a garden with her Landscape Architect mom! Nina has dreams of starting her own business with all of the extra produce their garden will grow. But gardens take time to grow, and a lot of work as well.  Throughout this illustrated novel, challenging words are defined to help promote unfamiliar vocabulary words.
THOUGHTS: Kids who enjoy outdoor activities and gardening will enjoy this read.
Realistic Fiction           Krista Fitzpatrick, Wissahickon Charter School