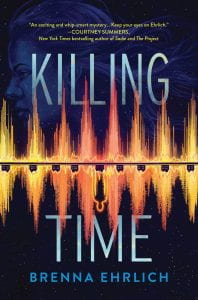 Ehrlich, Brenna. Killing Time. Inkyard Press, 2022. 978-1-335-41867-8. $18.99. Grades 9-12.
Natalie has lived a pretty sheltered life in Ferry, Connecticut, thanks to her mom's overprotective rules. Working in their family diner, it's always just been the two of them. When Natalie, who recently graduated from high school, learns that her favorite teacher died under suspicious circumstances she's determined to honor Mrs. Halsey's memory. Though their last conversation didn't end well, Mrs. Halsey understood Natalie's interest in true crime and supported her (and Nat's best friend Katie) as the true crime club advisor. They even started their own podcast – Killing Time – where they evolve in their discussion of legendary killers. All of this "true crime stuff" is done, of course, without her mom's knowledge or permission. But Nat, who wants to go to college to be a journalist, is determined to tell her teacher's story and honor her life. When she finds a threatening note telling her to "Stay out of it. I'm warning you." she's even more motivated to piece together what happened to Mrs. Halsey. Between the conversations among customers at the diner, her internship at the paper, and some convenient friendships, Nat seems to be getting closer to the truth. But how likely is a teenager operating on her own to solve a crime, especially when someone doesn't want the truth to come to light? Interspersed throughout the novel are "Then" chapters that flash back to Helen's college days which shed some light onto the strained relationship between mother and daughter and some of Helen's overprotective tendencies.
THOUGHTS: Fans of true crime will like this one. I especially enjoyed the Then chapters which seemed to have more suspense and keep the story moving. A supplemental purchase where mysteries are popular.
Mystery          Maryalice Bond, South Middleton SD