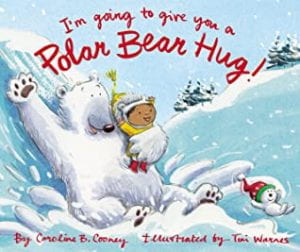 Cooney, Caroline B. I'm Going to Give You a Polar Bear Hug. ZonderKidz, 2020. $17.99. 32 p. 978-0-310-76780-8. Grades PK-1. 
An inventive young girl enjoys a day of playing in the snow with a cardboard sled of stuffed animals. First, Dad helps her dress in a furry white snowsuit while she imagines he is a cuddly polar bear giving her a "shivery, quivery forty below hug." Outside, bundled in a bright yellow coat with a fur lined hood paired with red boots, she envisions more hugging fun inspired by her sled full of plush friends. Reindeer, walrus, goose, seal, and other wintry critters are featured in unique hugging styles. Brief rhyming text is paired with full page illustrations of frolicking, cuddly animals. Back inside, the fun and hugs continue with Dad and younger brother all playing together on the floor. The whole family has Brown skin and short curly dark hair.
THOUGHTS: Great for the preschool crowd this book is a joyful celebration of childhood imagination paired with loving family fun. The animal hugs offer an opportunity to add gross motor play to a winter story time with learners reenacting the seal stands, bunny hops, and cardinal flight of the protagonist's vivid imagination.
Picture Book          Jackie Fulton, Mt. Lebanon SD