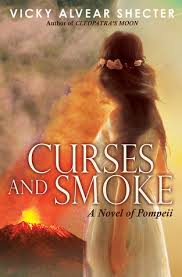 Shecter, Vicky Alvear. Curses and Smoke. New York: Arthur A. Levine Books, 2014. 978-0-545-50993-0. 324 p. $17.99. Grade 7 and up.
Set just one month before the devastating eruption of Mount Vesuvius, Curses and Smoke is the story of a young girl, Lucia Titurius, and her childhood friend, Tages.    As Lucia's father, the owner of a failing gladiator school, is preparing for her upcoming marriage to a much older but very wealthy man, she reconnects with Tag as he returns from Rome to take over his father's responsibilities as medic.  Lucia and Tag find themselves in an awkward place with her the head of the household and Tag still a lowly slave.   However, the two quickly find love.  As the volcano begins to erupt, so does their romance and determination to be together.  Lucia's character struggles with the role of women in Italian society and often tries to go beyond just being a woman with no voice.  Although rich with vocabulary with Latin roots, the story feels unrealistic at times.   This was a quick fun read and could be recommended for lower readers or those, like me, interested in Pompeii.
Historical Fiction, Romance    Laura Ward, Fox Chapel Area High School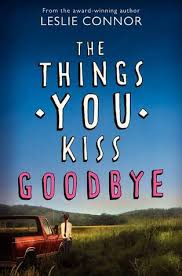 Connor, Leslie. The Things We Kiss Goodbye. New York: Katherine Tegen Books, 2014.  978-0-06-089091-91. 356 pages.  $17.99.
At first glance this might seem like a typical teen romance novel, but one quickly realizes that it is so much more.  Author Leslie Connor tackles the tough, but real, subject of abusive relationships and explores how teens often find themselves helplessly stuck in these tricky situations.  Being a Greek American female, Bettina Vasilis was raised with little freedom, so she cautiously enters a relationship with basketball star Brady Cullen treading the waters of dating lightly, knowing any wrong step could cost her the freedom she's longed for.  When Brady begins to leave Bettina with bruises, she's afraid that her father will blame her.  After Brady humiliates Bettina in front of his friends, she seeks solace in the parking lot of a nearby industrial park.  This is where she meets the handsome and mysterious "Cowboy." Bettina's life changes as she spends more and more time with Cowboy and their unusual friendship grows to be more. Connor explores other forms of abusive relationships through Bettina's friendships and home life showing that there isn't just one type of abuse.  However, for as realistic as this novel is, there are only three adults who have active roles in the story and some of Bettina's friendships seem underdeveloped.
Realism     Laura Ward, Fox Chapel Area HS