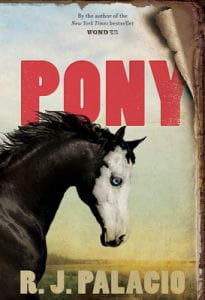 Palacio, R.J. Pony. Alfred A Knopf, 2021. 978-0-553-50811-6. $17.99. 304 p. Grades 4-7.
This historical fiction selection tells the story of Silas, a 12 year old boy living with his father in rural Ohio. Awoken in the middle of night by three strange men, Silas' father is asked to accompany these men for a nefarious seeming reason. After some back and forth, Silas' father agrees to leave with the men, to return in one week's time. Silas is told to stay put and wait. The next day, one of the horses returns to the farm. Silas takes this as a sign that he is to set out to find his father. Silas is joined by Mittenwool, a ghost boy who has been with Silas since he was a tiny boy. Along his journey, Silas runs into people who help him on his quest to find his father. He also realizes that he can see those who have passed on. In his quest to find his father, Silas confronts many fears and mysteries that connect his past and future.   
THOUGHTS: I had many questions of how Silas and his pony were able to sustain such a harrowing journey, but the scene where they find his father and his captures is a really exciting and a page turner! There is a lot of death in this story, so it's definitely for the more mature reader. It's kind of a cross between The Sixth Sense (I see dead people) and a western.
Historical Fiction          Krista Fitzpatrick, Abington SD
Adventure