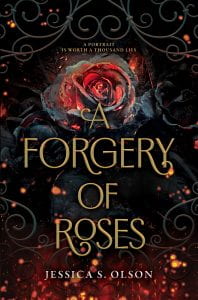 Olson, Jessica S. A Forgery of Roses. Inkyard Press, 2022. 978-1335418661. $19.99. 384p. Grades 7-12.
Myra Whitlock has a secret: she's a prodigy. When she paints, she can access her magic, and heal her subjects. Not everyone is accepting of prodigies, especially the governor, but when his wife discovers her secret, she hires Myra to paint her recently deceased son, Will, in the hopes of bringing him back to life. Myra has never resurrected a person before, but the reward is too great to pass up. Money has been tight since her parents' disappearance, and her sick, younger sister needs to see a doctor, a luxury they no longer can afford. When she arrives at the governor's house, she befriends the governor's oldest son, August, and together, they discover that Will's death was not an accident, and if Myra has any chance of bringing him back, she must first discover the mysterious circumstances of his death and avoid becoming the next victim herself.
THOUGHTS:  A Forgery of Roses is a magical, murder mystery that will keep readers guessing until the very end. Although two of the main characters develop feelings for each other, it goes no further than a few embraces and kisses, making this title a good fit for middle school libraries as well as high school ones. Myra is hired to use her magic to bring a person back to life, and the book does contain descriptions of blood and gore among murder victims and within art work. One of the main characters suffers from anxiety and panic attacks, and that's not always a trait readers get to see in main characters.
Fantasy          Emily Hoffman, Conestoga Valley SD