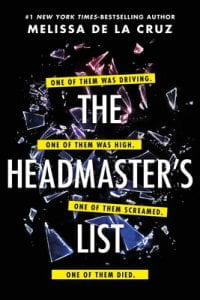 de la Cruz, Melissa. The Headmaster's List. Roaring Book Press, 2023. 978-1-250-82738-8 . 400 p. $19.99. Grades 9-12.
Earning a coveted top spot on the elite Headmaster's List at Armstrong Prep, senior Spencer Sandoval's future plans seem to be falling into place. Some people's family's have to donate buildings to get them on the list, but that's not a big problem in L.A. When a high speed car crash ends in tragedy, leaving Chris Moore – son of a Armstrong teacher – dead, Spencer wishes she could remember the details. Why was she in the car with her ex Ethan, who she caught cheating at the party; Chris, an underclassmen; and Tabby, a newer transfer student? Missing the first week of classes definitely wasn't part of Spencer's plan. Upon her return to school, Spencer gets plenty of unwanted attention and everyone wants to know what she can't remember. Perhaps more than anyone else, classmate Peyton Salt wants an exclusive interview to propel her – and her podcast Get Salty – into fame. Recovering from her injuries means Spencer can't play field hockey, and no one seems to look away new scar on her face. While her new service dog Ripley helps keep Spencer's emotions in check and wake her from recurring night terrors, she also notices the pitying glances that come her way despite her best friend Olivia's attempts to shield Spencer. Ethan, who admitted to causing the accident, couldn't have meant it, and now he's being charged as an adult. Spencer has a nagging feeling if she just could remember something, all would be resolved. Teaming up with Jackson Chan, Ethan's best friend, who is helping Spencer catch up from her absence gives Spencer the sense of purpose she's been missing – and hope that she'll fill in the pieces of that night.

THOUGHTS: Readers looking for a puzzle will appreciate Spencer's unreliable narrative as she tries to remember (and accept) what happened and her part in it. Recommended for high school collections where mysteries with memory gaps like We Were Liars and Monday's Not Coming are popular.
Mystery, Realistic Fiction