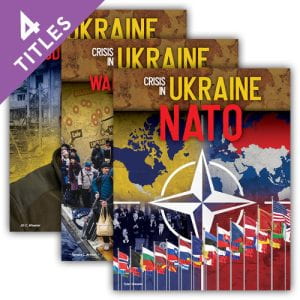 Crisis in Ukraine. Abdo & Daughters, 2023. $24.95 ea. $99.80 set of 4. 63 p. Grades 5-8.
Britton, Tamara L. War in Ukraine. 978-1-532-19915-8.
Gieseke, Tyler. NATO.  978-1-532-19912-7.
O'Brien, Bridget. Vladimir Putin. 978-1-532-19913-4.
Wheeler, Jill C. Volodymyr Zelensky. 978-1-532-19914-1.

This reviewer evaluated the title Volodymyr Zelensky. As the current president of Ukraine while a war rages within its borders, Volodymyr Zelensky has become known throughout the world. Zelensky is the son of a computer science professor and an engineer. Growing up in Kryvyi Rih in what was then the Ukrainian Society Socialist Republic, Zelensky loved watching K.V.N., a show where contestants compete to be the funniest person. In college, he majored in law at his mother's request, but he found he could not give up on comedy. He formed Studio Kvartal 95 and developed a show called Evening Quarter, a comedy show similar to America's Saturday Night Live. A turning point in his acting career was on Servant of the People. The character Zelensky played was a high school history teacher turned politician. This got him more interested in government work. He decided to run for president of Ukraine, running on a platform that promised to eliminate corruption and greed. He won by a landslide. Throughout his presidency, Zelensky's popularity decreased due to different scandals. But when Russia invaded Ukraine in February of 2022, Zelensky earned respect for refusing to leave the country while at war. His speeches and social media posts about the war have rallied a nation and inspired them to fight on.
THOUGHTS: This nonfiction is timely and relevant. The text is easy to read and includes photographs and sidebars with more information. Backmatter includes a timeline, glossary, index, and a QR code to online resources.
900s Biography and/or History