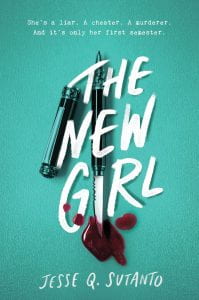 Sutanto, Jesse. The New Girl. Sourcebooks, 2022. 350 p. $10.99 (paper) 978-1-728-21519-8. Grades 9-12. 
Thanks to her running speed on the track, Lia Setiawan has been given a full scholarship to prestigious Draycott Academy, and she is determined to prove she deserves it. But the school is full of extremely wealthy young people–think private jets, designer drugs, and racist, elitist attitudes. Because she begins mid-year after the dismissal of the outspoken drug-addicted Sophie, she finds few people to welcome her.  Draycott's dirt app closely follows every student, and students anonymously post about everyone and everything (which isn't about to end well). It turns out that Sophie had complaints about unfair grading practices of English instructor Mr. Werner, and Mr. Werner very pointedly informs Lia she does not belong in his class. Lia insists on staying in the class only to find herself failing dismally despite extreme diligence to the classwork.  She begins to suspect that some students have paid Mr. Werner for their grades, and she knows she'll never be able to do that, and her track scholarship depends on her grades. Lia instantly connects with the drool-worthy Danny, who is another reason to fight for her place. But the dirt, the revenge, and the drugs begin to take their toll, and when Lia is the one to find Sophie dead in Mr. Werner's office, she realizes that she needs to play the game even harder if she's going to win–or live.
THOUGHTS: Like Sutanto's The Obsession (2021), this novel features characters who can and will go to extremes to hide, succeed, and get revenge. By the novel's end, nearly every character has a twisted secret revealed. And after the death Lia causes, tension rises to see if she will be revealed, too.  A good choice for suspense addicts.  
Mystery          Melissa Scott, Shenango Area SD
Realistic Fiction