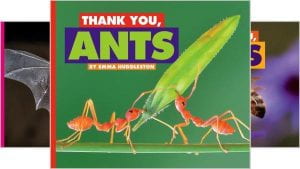 Animals We Can't Live Without. The Child's World. 2022. $19.95 each or $239.40 for set of 12. Grades 1-4.
Huddleston, Emma. Thank You, Ants. 978-1-503-84991-4.
Thank You, Corals. 978-1-503-85007-1.
Thank You, Earthworms. 978-1-503-84997-6.
Thank You, Frogs. 978-1-503-84994-5.
Thank You, Primates. 978-1-503-85010-1.
Erickson, Marty. Thank You, Bats. 978-1-503-84993-8.

Thank You, Bees. 978-1-503-84996-9.
Thank You, Sharks. 978-1-503-85008-8.
Thank You, Termites. 978-1-503-84992-1.
Thank You, Zooplankton. 978-1-503-84998-3.
Pearson, Marie. Thank You, Raptors. 978-1-503-84995-2.
Thank You, Rodents. 978-1-503-85009-5.
The series Animals We Can't Live Without focuses on animal species that may not be the cutest or cuddliest animals, but rather animals that help our environment in ways we may often forget. Whether the animal flies, swims, lives on land or in the sea, there are important factors these animals have that affect the ecosystem around them. This reviewer read the titles Thank You, Raptors and Thank You, Rodents, both by Marie Pearson. Thank You, Raptors discusses the amazing raptors of our world, also known as birds of prey. With beautiful photographs, helpful charts, and vocabulary words, readers will be able to learn why these birds are so helpful to our world and how we can help keep them safe and protect them from endangerment. Thank You, Rodents, does the same, but focuses on those tiny rodents we all know (and may not always like!). Despite the fact that some people may be squeamish about tiny mice or rats, these rodents are important to their environment and help our world continue to function as a whole.
THOUGHTS: The two books reviewed are very interesting, full of great information for younger elementary students to read and learn about. The photographs are beautifully taken, and the additional information in the back to further your knowledge is a great way for readers to continue to learn about the amazing species the book presents.
590s Animals          Rachel Burkhouse, Otto-Eldred SD