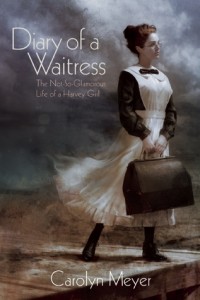 Meyer, Carolyn.  Diary of a Waitress: The Not-So-Glamorous Life of a Harvey Girl.  Honesdale: Calkins Creek, 2015.  978-1-62091-652-0. 348 p.  $17.95.  Gr. 5-10.
The year is 1926, and Katherine "Kitty" Evans has just graduated from high school.  She is planning to go to college to become a journalist.  This dream is squashed, however, when her father tells her they do not have enough money to send her to college.  Instead, Kitty obtains a job as a Harvey Girl, moving away from Leavenworth, Kansas, to waitress in Harvey Eating Houses along the Atchison, Topeka & Santa Fe Railroad.  She forms close friendships with some of the other Harvey girls and chronicles all of their lives in her diary.  She also continues to pursue a career in journalism, completing some writing assignments for local newspapers.  Because Kitty's diary entries are so detailed, the book is packed with historical information, including references to Prohibition, flappers, the KKK, pilot Charles Lindbergh, actor Rudolph Valentino, journalist William Allen White, and more.  Black and white photographs from the time period are also dispersed throughout the book, and a selected bibliography provides readers with resources for further review.  This is a great read for those interested in learning more about this little-known part of American railroad history.
Historical Fiction       Julie Ritter, Montoursville Area High School
As a former social studies teacher, I found this book fascinating.  I had never heard of Harvey Eating Houses and found myself doing some research about these restaurants as I was reading the book.  The historical details in the book all seem to be accurate.  I will say, however, that this book might not be so fascinating for readers who are not interested in history.  The extensive details might seem boring, and the plot doesn't really seem to go anywhere.  It follows Kitty and her friends as they pursue their dreams and find love, but there doesn't seem to be any major conflict or turning point in the book.  I would probably only recommend this book to readers who are very interested in U.S. history.