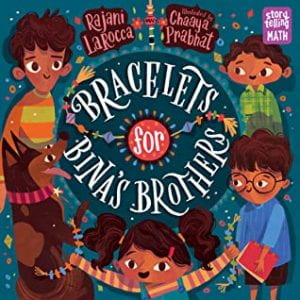 LaRocca, Rajani, and Chaaya Prabhat. Bracelets for Bina's Brothers. Charlesbridge, 2021. 978-1-623-54129-3. unpaged. $15.99. Grades K-2.
The sibling holiday of Raksha Bandhan was coming soon, and Bina wanted to make the traditional bracelets for her brothers by herself this year. First she does some investigating to find out each brother's color preferences. She learns that Vijay likes blue best but green the least; Siddharth loves green but can't stand orange; and Arjun's fav is orange but not blue. As readers will guess, once the process of putting together each personalized bracelet begins, Bina needs to do some problem solving. The patterns that come from her process are fun, allowing readers to play the part of Tara, the faithful family dog, to help Bina when she is stuck. Prabhat creates a colorful animated world to enjoy, and LaRocca adds her cultural note and math connections at the end to help make Bina's story special.
THOUGHTS: The bracelet patterns are not advanced, but serve as a starting point to bigger pattern projects. The holiday of Raksha Bandhan gets a rare spotlight which siblings both familiar and new to the day should appreciate. This is a solid series to celebrate "Math, diversity, and the power of story." Recommended.
Picture Book          Dustin Brackbill, State College Area SD
In preparation for Raksha Bandhan, an Indian holiday celebrating the bond between brothers and sisters, Bina, who has three (sometimes annoying) older brothers, decides she is old enough to make bracelet gifts with the help of her dog Tara. Bina works to figure out each brother's favorite and least favorite colors as well as special interests to create a unique bracelet for each one. While investigating, she learns more about each of her brothers and asks them not to call her names like Giggles, Piggles, and Wiggles. After a trip to the craft store with her mom, Bina has the right colored beads and "extra-special beads for extra-special brothers." She has to figure out the right colors and patterns, being careful not to use colors her brothers don't like and to have repeating patterns on each bracelet. With Tara's careful supervision, will Bina be able to make unique bracelets for each of her brothers. An author's cultural note, exploring the math, and website (https://www.charlesbridge.com/pages/storytellingmath) are included for extension activities.
THOUGHTS: A beautiful celebration of siblings, Bracelets for Bina's Brothers is an excellent addition to elementary collections looking to add holiday representation and family stories. Highly recommended (and be sure to check out other Storytelling Math titles at the link above).
Picture Book          Maryalice Bond, South Middleton SD