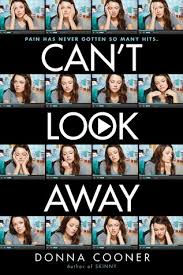 Cooner, Donna.  Can't Look Away.  New York: Point, 2014.  978-0-545-42765-4.  264p.  $17.99.  Gr. 9 and up.
Sixteen-year-old Torrey Grey is famous on the Internet for her YouTube videos about fashion and beauty.  She has thousands of followers; however, her whole world comes crashing down when her younger sister is hit and killed by a drunk driver.  Her online followers begin to bash her after a video is leaked portraying Torrey shouting at her sister minutes before the accident.  As Torrey's family struggles to deal with the grief, her father moves them from Colorado to Texas, and Torrey has the opportunity to start over at a new school.   While she desperately wants to fit in with the popular crowd, she finds herself drawn to Luis, an outcast, whose father owns a funeral parlor.  She also begins to develop a bond with her dorky cousin, Raylene.  Ultimately, Torrey must choose between the popularity and fame of her former life and a new normal, and she must also decide how she is going to handle her grief both online and in real life.
Realistic Fiction   Julie Ritter, Montoursville Area High School
Besides the accurate portrayal of high school social dynamics, there are many other aspects of this book that will appeal to readers and make it a good addition to any school library.  First, as Torrey is coming to terms with the loss of her sister, there are many references to Day of the Dead, making the book an excellent multicultural addition that would support any Spanish curriculum.  In addition, any of today's tech-savvy teens will be able to relate to the collision of the virtual world and the real world, as well as the presence of cyberbullying in the book.  Lastly, the strength of the characters in the aftermath of tragedy will tug at the heartstrings and will appeal to fans of Gayle Forman and John Green.