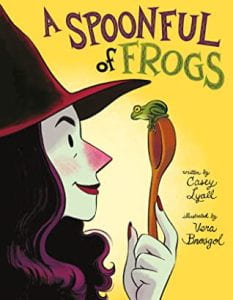 Lyall, Casey, and Vera Brosgol, Illustrator. A Spoonful of Frogs. Greenwillow Books, 2022. 978-0-062-89029-0. unpaged. $17.99. Grades K-2.
Welcome to Bewitching Kitchen, where today's featured recipe is Frog Soup. This easy and healthy recipe is every witch's favorite treat! Ingredients include garlic, carrots, fly extract, and a spoonful of frogs for flavor and a "pop of color." Unfortunately, the frogs in this witch's kitchen are less than enthusiastic about jumping onto the spoon and into the pot. They outwit an increasingly frazzled witch before leading her on a chase across the street and right into a nearby pond. Luckily, the witch comes up with an acceptable substitute for frogs that saves both the recipe … and the frogs! Young readers will delight in the exaggerated physical comedy as the witch's composure dissolves amidst the increasing chaos. They also will root for the adorable, wily frogs.
THOUGHTS: Vera Brosgol's entertaining digital artwork enlivens Casey Lyall's minimal, action-oriented text. This is a great selection for Halloween as well as introducing the cookbook section. Laughs are guaranteed! 
Picture Book          Amy V. Pickett, Ridley SD