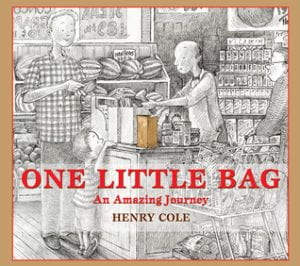 Cole, Henry. One Little Bag: An Amazing Journey. Scholastic Press, 2020. 978-1-338-35997-8. 48 p. $18.99. Grades K-3. 
This wordless book takes readers on one paper bag's journey from the forest, through a lifetime of different uses, and ultimately back to the forest. Opening spreads depict woods full of trees, and readers watch as one tree is chopped down, loaded onto a truck, and delivered to a sawmill. The tree is turned into a paper bag, and it's journey continues when a small boy and his father use the bag to carry a flashlight home from the store. The bag is used over and over again through the years to carry lunches, sheet music, tools, snacks, an engagement ring, flower petals, toy blocks, and seashells. The bag passes through generations until it is ultimately used to plant a tiny evergreen tree. Even though this story doesn't include any words, there is plenty to discuss and infer. Illustrations were created with an ink pen, and the only spot color is the brown paper bag and the red hearts that accumulate on the bag throughout the story. Thoughtful readers will pore over the illustrations, noting details such as woodland creatures, newspaper headlines, and family portraits. An Author's Note at the end of the book shares this story's inspiration and offers perspective about the importance of reusing and recycling.
Thoughts: This is sure to become an Earth Day classic, prompting discussions about what other seemingly disposable items people may creatively use more than once.
Picture Book          Anne Bozievich, Southern York County SD