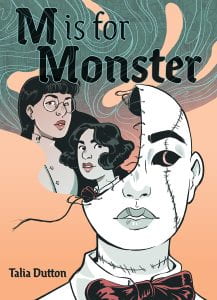 Dutton, Talia. M Is for Monster. Abrams ComicArts, 2022. 978-1-4197-5197-4. 224 p. $17.99. Grades 7-10.
Frankenstein's monster gets a gender-flipped, graphic novel update in Talia Dutton's M Is for Monster! Innovative scientist Frances Ai lost her younger sister in a laboratory accident six months ago. Frankie cobbled Maura back together and, with the help of a well-timed lightning strike, brought her back to life. However, she isn't quite … Maura. "M" has no memories from before her resurrection, and she fears that Frankie may take apart and reassemble her over and over again until she gets it right. She finds an unlikely ally in the ghost of Maura, who appears in mirrors and coaches M through interactions with her older sister. This way, M avoids a dismantling and Maura gets to keep living, in a fashion. But the cracks in this arrangement begin to show as M and Maura assert their individuality. Can they both find a path forward, or will Frankie intercept their Cyrano de Bergerac-style ruse? Author and illustrator Talia Dutton uses a green, black, and white color scheme (and plenty of period details) to portray M's limited but intriguing world. It's one she desperately wants to continue living in, and readers will feel the same!
THOUGHTS: What first appears to be a straightforward horror novel is also a thought-provoking take on grief and identity.
Graphic Novel          Amy V. Pickett, Ridley SD