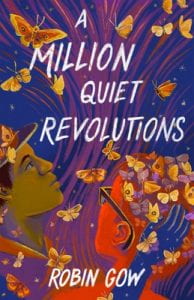 Gow, Robin. A Million Quiet Revolutions. Farrar Straus Giroux, 2022. 978-0-374-38841-6. 319 p. $18.99. Grades 11+.
A Million Quiet Revolutions is a novel in verse told from the perspectives of two young trans men, Aaron and Oliver, as they explore themselves, each other, and their relationship. In the first third of the book, Aaron moves away, and this causes a shift in their relationship as well as in Aaron's life. The reader is not told explicitly; however, it is implied that the family moved due to a scandal involving Aaron's older brother and the priest at the local church. Oliver has a fascination with history, and he decides that when Aaron moves away they should write letters to each other like soldiers did during the Revolutionary War. The novel in verse follows the two characters as they write letters and decide to meet up at a Revolutionary War reenactment and what that means for their relationship with each other, as well as their families. 
THOUGHTS: This is a powerful, hard hitting novel in verse that will move anyone who reads it. There are so many beautiful moments between these two characters, and there is so much growth with these them as well. Also, the plot of this book is Kutztown, PA which is fun to see local attractions mentioned throughout the story. This is a must have for any high school.
Realistic Fiction          Mary McEndree, Lehigh Valley Regional Charter Academy