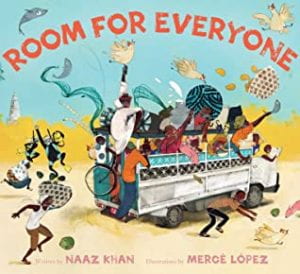 Khan, Naaz. Room for Everyone. Atheneum Books for Young Readers, 2021. 978-1-534-43139-3. Unpaged. $17.99. Grades K-3.
Musa and Dada are off to Nungwi Beach in Zanzibar when, along the way, Dada stops the bus to pick up an old man with a broken bike. Musa argues that there's no room for the man and his bike, but Dada insists there is plenty of space. They make room, and before long, Dada stops again to pick up a herder with two goats. Again, Musa argues there is no room, and again, they shuffle around and make space. This pattern continues throughout the book until, by the end, it's Musa insisting that there is room for everyone. Ultimately, they reach the beach, where they all pile out to enjoy a day under the sun. Rhyming text and detailed, colorful, mixed-media illustrations make this a very lively, engaging read.
THOUGHTS: I love everything about this book! Not only does it convey the subtle message that there is always room for new friends and experiences, but it also provides readers with a glimpse of African culture. A glossary in the back explains unfamiliar words like daladala (a shared minibus), baghala (a boat used by people living near the Arabian Sea and Indian Ocean), and more. This is a solid purchase for social studies classrooms and/or elementary library collections.
Picture Book           Julie Ritter, PSLA Member