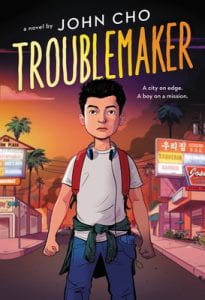 Cho, John. Troublemaker. Little, Brown and Company, 2022. 978-0-759-55447-4. 214 p. $16.99. Grades 3-6.
Jordan feels like he can never compete with his older sister, especially when he is suspended for cheating. Jordan tries to hide this fact from his family, they are preoccupied with worrying about the family's business. In the background of this novel, which takes place in Los Angeles during the Rodney King trial as well as the shooting of Latasha Harlins, the tensions are high not only with the characters but also with the setting of the novel. Jordan's father decides to go check on the family store, and Jordan makes a decision to sneak out to try to prove himself to his father. As Jordan and his friend Mike are going through Los Angeles trying to get to his father, they can see how dangerous things have become in the city. Will Jordan and Mike make it to Jordan's dad, or will they end up needing to be rescued themselves?
THOUGHTS: This is an edge of your seat type read as you follow Jordan through the night as he is trying to get to his dad. This novel does not shy away from important topics either, such as racism, family dynamics, or guns. This is a great middle grade novel!
Realistic Fiction          Mary McEndree, Lehigh Valley Regional Charter Academy