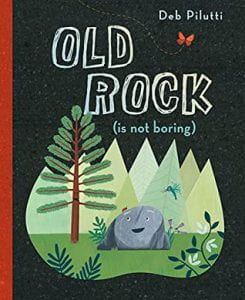 Pilutti, Deb. Old Rock (Is Not Boring). G.B. Putnam's Sons, 2020. 978-0-525-51818-1. 32 p. $17.99. Grades K-4. 
Old Rock happily sat at the edge of the forest "for as long as anyone could remember. And even before that" until one day friends begin to brag about their many adventures. Hummingbird's stories of flight remind Old Rock about what it was like to sit in darkness before erupting from a volcano. Spotted Beetle's tales of scaling trees to watch animals and ships remind Old Rock of times when dinosaurs roamed before giant glaciers covered the land. Tall Pine's dancing in the wind inspires rock to recant what it was like to tumble down a ridge and land in a vast grassland full of mastodon. Old Rock's friends are finally convinced that staying in one place for as long as anyone can remember might not be that bad when Old Rock shares what it has been like to watch seedlings grow into tall pine forests while listening to stories of adventure and travel from good friends. Anthropomorphic flora, fauna, and rock illustrations paired with occasional conversation bubbles add whimsy to the story. The final page consists of an illustrated timeline spanning from 18 million years ago to present day providing additional facts about Old Rock's journey.
THOUGHTS: Connect this book to a science lesson about the rock cycle, geology, earth history, or just read it aloud for fun. I think students will enjoy the humor of this book while also appreciating the geological facts rooted in Old Rock's stories. SEL connections can also be made with Old Rock's contentedness to be still and live in the present.
Picture Book          Jackie Fulton, Mt. Lebanon SD