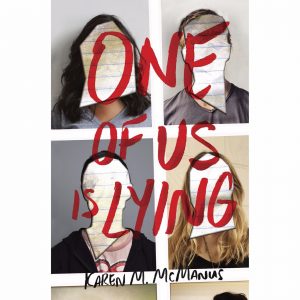 McManus, Karen M. One of Us Is Lying. Delacorte Press, 2017. 978-1-524-71468-0. 368 p. $17.99. Gr. 9 and up.  
Five very different high school students walk into detention. They're known for being smart, pretty, dangerous, athletic, or outcast. Within a few minutes of being stuck together, something seems off. It turns out science teacher Mr. Avery confiscated a phone from each of them, phones they claim don't belong to them. The problem: Only four students walk out of detention.  While four students are distracted, Simon collapses. 911 is called; the police ask questions, and meanwhile everyone in detention wonders what just happened. Was Simon targeted? He created an app that shares everyone's juicy gossip. It's not unreasonable to think someone wanted the gossip to stop, or maybe it was simply revenge.  Narrated by each student, readers are taken on a fast-paced whodunit ride. Each character has his or her own drama to deal with as rumors circulate, and mystery surrounds each suspect. Though these students know each other, this book asks how much do they really know? Readers will quickly learn not all is as it seems.  THOUGHTS: Mystery fiction fans will devour this book, puzzling the details as bits and pieces of the story are given. The multiple narrators add a compelling element as readers will want to know the next piece of the story. Don't skip around, or you'll miss out on some key evidence!    
Realistic Fiction, Mystery      Maryalice Bond, South Middleton School District
Simon Kelleher is the face behind Bayview High's most notorious gossip site, so it's no surprise that he is also one of the most unpopular (and at times popular, depending on the gossip at the moment) students at Bayview.  When Simon ends up in detention with Nate Macauley, Bayview's "bad boy"; Cooper Clay, a rockstar pitcher looking at the majors; Bronwyn Rojas, the "brain", and Addy Calloway "Miss Popularity", it seems like The Breakfast Club all over again.  That is until Simon dies in detention due to anaphylactic shock and only Cooper, Bronwyn, Addy, and Nate are in the room when it happens.  Now it's up to them to prove they didn't kill Simon, unless one of them actually did kill Simon since he was about to post gossip about each of them.  THOUGHTS:  This is a true mystery "whodunit".  It is not for the murder-mystery, action-packed mystery lover, but for the thoughtful problem/crime solver mystery lover.  It moves slowly, and due to the varying narrators (Addy, Cooper, Nate, and Bronwy rotate sections in each chapter) has some holes throughout.  Readers need to focus on the minutia to solve Simon's murder.  
Mystery      Erin Bechdel, Beaver Area SD
Moracho, Cristina.  A Good Idea. Viking, 2017.  978-0-451-47624-1. 357 p. $18.99. Gr. 9-12.
When Finley's parents divorced, she moved to New York City to live with her mom.  However, she returns to the small town of Williston, Maine, every summer to visit her dad and hang out with her best friend, Betty.  That is, until Betty disappears during the fall of their senior year, and her ex-boyfriend, Calder, admits to drowning her.  Unfortunately, his testimony is thrown out because he was a minor when he gave it and did not have a lawyer present.  Because the body was never found, people begin to speculate about whether Betty was actually murdered or whether she ran away.  When she returns to Williston at the end of her senior year, Finley is determined to discover the truth about Betty and seek justice in the case.  However, she soon learns that the truth may be more complicated and devastating than she ever imagined.  THOUGHTS:  Although this is not an incredibly fast-paced mystery, it does have realistic, relatable characters and plot twists that keep readers coming back for more.  It is a powerful portrait of grief, anger, and forgiveness, concepts and feelings that we all experience at some point in our lives.  It also takes a look at the realities of small town life and includes some edgy content, such as underage drinking, drug use, lesbianism, and sex.
Mystery    Julie Ritter, Montoursville Area SD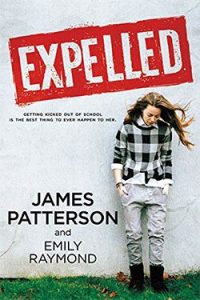 Patterson, James and Emily Raymond. Expelled. JIMMY Paterson Books/Little, Brown, 2017. 978-0-316-44039-4. 304 p. $17.99. Gr. 9 and up.
Theo, Jude, Sasha, and Parker are not the type of students you would expect to be expelled from school — the boy-next-door, the artist, the hot mysterious girl, and the quintessential football jock not only have very little in common but also have never gotten in trouble before.  Best friends Theo and Jude have a friendship that survives on keeping the other in check while Sasha and Parker broke up years ago for the simple fact that a relationship is hard to maintain when you have nothing of substance to say to the other person.  However, now they all have something to talk about.  These four high school students find themselves thrust together when each gets expelled, vowing to work together to find the truth behind who really committed the crimes they've been accused of.  The only problem is, each is hiding their own secret that could tear the misfit group apart at the seams.  Can they solve the mystery and save their own futures without destroying each other in the process?  THOUGHTS:  Patterson's newest YA release is a bit The Breakfast Club meets Nancy Drew and The Hardy Boys, with very modernized twists that can still stand the test of time.  In fact, several iconic 80's movies are referenced, which was a delightful surprise for this mid-30's reader of YA.  Adults are not to be trusted in this contemporary, realistic fictional world, but then again, teenagers aren't, either.  The protagonist, Theo, is a clean-cut teen who has had a very rough year and could use a break that just doesn't seem to be coming his way.  So, he makes one for himself.  Readers will root for Theo the entire book for the simple fact that, when being handed a raw deal, he shows a tenacity to fix his own life without waiting for someone else to do it for him.  He isn't impervious to a depressing life he finds himself in; he does have a small pity party or two, but he also refuses to let it swallow him whole or use it as an excuse to give up.  Theo is the epitome of a modern-day teenage hero whose lesson hopefully resonates with every young adult who picks up this book.
Realistic Fiction, Mystery            Sandra Reilly, Pleasant Valley SD