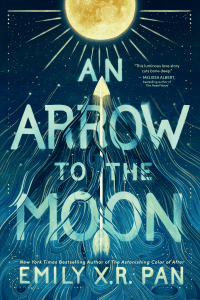 Pan, Emily R. X. An Arrow to the Moon. Little, Brown, and Company, 2022. 978-0-316-46405-5. $18.99. 400. Grades 9-12.
Luna Chang and Hunter Yee each come from a family that hates the other, and although they are forbidden to see each other and try to keep their distance, they become friends and then more. As they begin to spend more time together, they notice that each has special, almost supernatural abilities: Luna is followed by a group of fireflies, and her breath can heal Hunter when he's hurt or having an asthma attack. Hunter has a special relationship with the wind, and when he aims, especially with his bow and arrow, he never misses. As graduation nears, Luna realizes her life is not as perfect as it seems, and Hunter continues to feel trapped within his. Each family has secrets, and as the lies unravel and some dangerous truths are revealed, their world begins to crack and their lives fall apart. Will their love be enough to save them, or will it destroy them?
THOUGHTS: An Arrow to the Moon has been described as a "Romeo and Juliet retelling" mixed with Chinese mythology, specifically the Chinese legend of Chang'e and Houyi. The families are Taiwanese immigrants, although Hunter's family consider themselves to be simply Chinese. This brings up a conversation between the characters about cultural identities and the struggles of immigration. Readers also may make connections to the characters as they experience family struggles and the realities of growing up. This title falls into the fantasy genre as magical realism, and it would be a perfect suggestion for readers looking for a love story with just a touch of magic.
Fantasy          Emily Hoffman, Conestoga Valley SD
An Arrow To The Moon is a dual perspective young adult novel that follows Luna and Hunter, who both attend the same high school and at the beginning of the novel don't interact with each other due to their parents being enemies. As the novel unfolds, Hunter and Luna become closer and closer, until they can no longer deny that they are in love with each other. They are able to keep this a secret from their parents, but there are other weird things happening in their town. Luna has fireflies that seem to follow her around, Hunter can aim perfectly with a bow and arrow, and the town has a massive crack going through the middle of it. As the reader follows the characters, the reasons become clear and Hunter and Luna are going to have some hard choices to make that will not only affect them but their families.
THOUGHTS: This is a unique take on a young adult Romeo and Juliet retelling, especially with the addition of Chinese mythology. This book will have the reader rooting for Luna and Hunter from the beginning until the very end. This is a great addition to any high school collection.
Romance          Mary McEndree, Lehigh Valley Regional Charter Academy