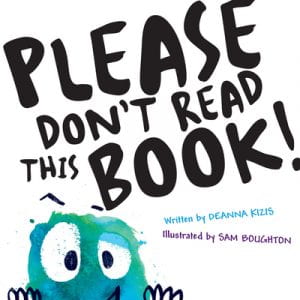 Kizis, Deanna. Please Don't Read This Book. Philomel Books, 2021. 978-0-593-11681-4. $17.99. unpaged. Grades Pre K-2.
This story is told by a cute little blue-green blob who advises you to please follow the rules. But, how can you resist breaking them when the rules give you so many great ideas? Like making farting noises, making silly faces, and patting your head and rubbing your belly. At the end, our little friend encourages readers to congratulate themselves and others for being so fun and talented. Illustrations, by Sam Boughton, are simple and bright on a bright white background. The lettering is fun and unique, encouraging read-a-longs.
THOUGHTS: Want to be a fun librarian? Read this to your Kindergarten and 1st grade classes! They will beg to hear it again.
Picture Book          Krista Fitzpatrick, PSLA Member