Cheng, Jack. See You in the Cosmos. Dial Books, 2017. 978-0399-186370. $16.99. 314 pp. Gr. 5-8.
Alex Petrowski will tell you a lot about himself.  He loves astronomy, and he named his dog after his hero, Carl Sagan.  He plans to launch his rocket with recordings of himself on his 'golden iPod.' His dad died when he was too young to remember him, and his older brother Ronnie lives in L.A.  Ronnie doesn't visit much, but he keeps track of their bills.  Alex is eleven but "more like thirteen in responsibility years," considering he cooks and cares for Carl Sagan and his mom, who has a lot of quiet days and who doesn't work or drive, and everything's ok if he just stays out of her way.  So Alex begins the trip alone to the Albuquerque, NM, annual rocket launch and finds himself meeting many new people, considering many new things, and finding new friends.  A couple of recordings he wants to include on his iPod are of people in love, and it takes a while to discover just who that might be.  His launch is a failure, but with two helpful adults, he detours to Las Vegas to discover why his dad's name and birthdate shows up at an address there.  He finds a family surprise, heads to L.A. for Ronnie, then back home where his mom has disappeared and an accident lands him in the hospital under social services radar.  Reminiscent of Counting by 7's by Holly Goldberg Sloan for the bright, unflinchingly open narrator who navigates the world with autism and high amounts of optimism.  THOUGHTS: A thoughtful look at honesty, family and love, and what sacrifice and adulthood mean.  This is an unusual read for tweens who want something fresh and different.
Realistic Fiction     Melissa Scott, Shenango Area SD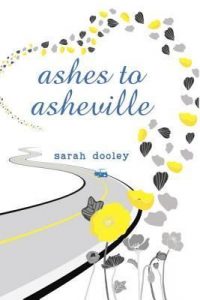 Dooley, Sarah. Ashes to Asheville.  G. P. Putnam's Sons, 2017. 978-0399-165047.  $16.99.  243 pp. Gr. 5-8.
Fella is hurting from the all-to-recent death of her Mama Lacy.  Her grandmother, Mrs. Madison, fought for custody of Fella, and the courts granted it, despite the fact that Fella has another mother, Mama Shannon, and sister, Zany.  Fella is still grieving and feeling out of place when late one night, Zany creeps into Mrs. Madison's house and steals Mama Lacy's ashes from the mantel then takes Fella and Mrs. Madison's poodle with her.  Zany is on a mission to scatter Mama Lacy's ashes in the last place she was happy, their old house in Asheville.  Fella isn't so sure this is a good idea, isn't sure she's ready, and isn't even fully dressed.  And so begins a road trip filled with difficult weather, an injured poodle, a thieving & grieving teenager, and too many stops along the way.  Zany, Fella, Mama Shannon, and Mrs. Madison are on track to come to terms with their loss if they can ever say what they really think and feel to each other.  THOUGHTS: This is a disappointing follow-up to Dooley's deeply felt Free Verse (2016). The writing is slow, even for a road trip, and although the adults seem realistic enough, the sisters never fully gel.  
Realistic Fiction     Melissa Scott, Shenango Area School District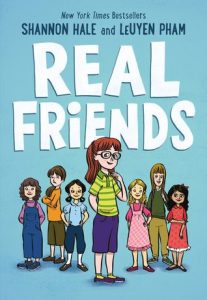 Hale, Shannon and LeUyen Pham. Real Friends. First Second Books, 2017. 978-162672-4167. $21.99.  207 pp. Gr. 5-9.  
Together, author Shannon Hale and illustrator LeUyen Pham deliver a wonderfully and tragically realistic tale of navigating friendships.  Based on Hale's own experience and divided by her 2nd-6th grade school years and her significant friends, readers see the perfection of being understood by a best friend, the pain of a best friend moving, the tightrope-walking of being part of 'the group,' the pain of stigmatization, and hope from the potential for change.  Pham's illustrations perfectly illuminate young Shannon's emotions and thoughts.  Anyone who has ever had a best friend, struggled to make friends, been the outsider, or wondered where they fit in will find insight in this tough but smart book.  As Hale concludes: "Friendship in younger years can be especially hard because our worlds are small….If you haven't found your 'group' yet, hang in there.  Your world will keep growing larger and wider.  You deserve to have real friends, the kind who treat you well and get how amazing you are."  THOUGHTS: This will appeal to nearly every student in upper elementary or middle school and could help to give needed perspective about navigating friendships, however fulfilling or painful.   
Graphic Novel; Realistic Fiction      Melissa Scott, Shenango Area SD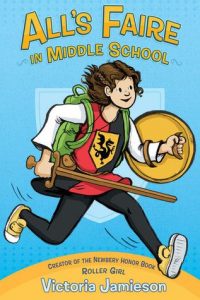 Jamieson, Victoria. All's Faire in Middle School. 978-0-5254-29988-2. 248 p. $20.99. Gr. 4-8.
Imogen's entire family works at the Florida Renaissance Faire, and she and her brother have been  homeschooled there her entire life. Imogene decides that for 6th grade, she wants to go to middle school. Excited and nervous, Imogene navigates new friendships, mean teachers, confusing bullies, and social norms while trying to find a place to fit in. And while she has grown up at and loves the Renaissance Faire, she finds that fitting in might mean hiding something that's a huge part of her. THOUGHTS: Another uniquely excellent from the author of Roller Girls. You won't be able to keep this graphic novel on the shelves!
Graphic Novel; Realistic Fiction     Vicki Schwoebel, Friends' Central School
I book talked this graphic novel that the beginning of the school year to our middle schoolers, and it has been consistently checked out ever since. I think kids really respond to Victoria Jamieson's art and see themselves in the characters she creates. Our 6th graders also take a field trip to the Renaissance Faire, so many students seem interested in the content because of this. Overall, an excellent addition to our collection this year that I can't recommend enough.
Larson, Hope. Goldie Vance, Volume 2. Boom! Box, 2017. 978-1-6088-6974-9. 112 p. $14.99. Gr. 6-9.
Goldie Vance returns in the second installment of this fun, retro detective series. Goldie is still working at her father's Palm Springs resort as a valet and solving mysteries on the side. This time, a mysterious woman, wearing a spacesuit, is found on the resort beach with no memory of how she got there. While Goldie and the resort detective Walt try to track down this woman's identity, Goldie's best friend Cheryl grows distant, and Goldie realizes she's hiding some secrets of her own. Goldie is determined to solve the mystery and get her best friend back. THOUGHTS: It's refreshing to see a graphic novel that celebrates girl-on-girl crushes and diverse skin tones and body sizes. Another excellent addition to any graphic novel collection from Hope Larson.
Graphic Novel; Mystery     Vicki Schwoebel, Friends' Central School