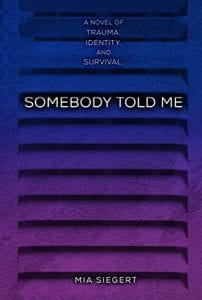 Siegert, Mia. Somebody Told Me. Carolrhoda Lab, 2020. 978-1-5415-7819-7. 272 p. $18.99. Grades 8-12.
Aleks/Alexis is bigender. Some days she is Alexis, and some days he is Aleks. There's no telling when the switch will happen, and their parents are very supportive. Alexis/Aleks doesn't always feel like they fit in, not within the world or within themself, except once upon a time among cosplay friends. But one day something happens, something big enough to ruin anime conventions forever, something big enough to make Alexis/Aleks run. And run they do, to live with Aunt Anne Marie and Uncle Brian, the uncle who just happens to be a Catholic priest, and lives in the rectory of his church. Faced with a choice between relatives who may never accept them or a life they can't return to, Aleks/Alexis chooses the former, opting to hide half of their true self to fit into a community they don't quite belong to. A community with its own secrets, some mild, some edging toward serious, and one that Aleks/Alexis just can't ignore.
THOUGHTS: While parts of the story seemed rushed, the characters are real and raw and up against forces way bigger than themselves. 
Realistic Fiction          Samantha Helwig, Dover Area SD