Cutting Edge: Science and Technology. Minneapolis: ABDO, 2016. 112 p. $24.95. Gr. 9 and up.
Abramovitz, Melissa. Brain Science. 978-1-62403-914-0.
Hand, Carol. Sustainable Agriculture. 978-1-62403-919-5.
Hulick, Kathryn. Artificial Intelligence. 978-1-68077-006-3.
Hulick, Kathryn. Energy Technology. 978-1-62403-915-7.
Kruesi, Liz. Astronomy. 978-1-62403-913-3.
Kruesi, Liz. Space Exploration. 978-1-62403-918-8.
Morris, Alexandra. Medical Research+Technology. 978-1-62403-916-4.
Slingerland, Janet. Nanotechnology. 978-1-62403-917-1.
Cutting Edge: Science and Technology is a very visual series, designed to draw readers in to explore multifaceted topics.  Each colorful book has ample eye-catching photos and sidebars on important people and events.  Well-drawn graphics explain scientific concepts simply.  The back of the book is chock full of helpful features such as an index, glossary, source notes, additional resources, and "essential facts."  The text, while informative, is broken up with frequent subheadings, making research easier.  The books not only cover the history of each topic but also speculate on the future, prompting the reader to consider possible developments. THOUGHTS:  This series would be a fantastic resource for research, but few students would be likely to check them out based on general interest, except maybe space exploration. Purchase if there is a need for information about these topics for class assignments.
Science & Technology     Kristen Rowe, Plum Senior High School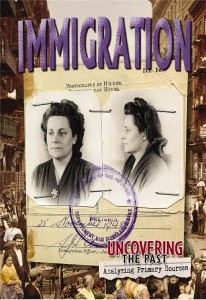 Uncovering the Past: Analyzing Primary Sources (series). New York: Crabtree Publishing Company, 2015. 48 p. $23.54 ea. Gr. 6-12.
Flatt, Lizann. Immigration. 978-0-7787-1550-4.
Hyde, Natalie. The Underground Railroad. 978-0-7787-1551-1.
Peppas, Lynn Leslie. The Holocaust. 978-0-7787-1548-1.
Staton, Hilarie. Civil Rights. 978-0-7787-1549-8.
This stellar series examines key events in American history through various primary sources. Readers are given a clear, concrete definition of primary and secondary sources, with guiding text along the way. With each subject, the author finely guides students through the process of contextualizing, analyzing, and interpreting documents such as photographs, advertisements, receipts, diary entries, maps, paintings and more. Readers can also interact with media clips, such as songs or other voice clips, which are linked to in certain volumes. All volumes end with a fantastic timeline to help fully visualize the context of the topic examined. In addition to exploring the history of the event, readers will also find a section focused on recent findings, as well as a glossary of terms, an internet guidelines and analysis section, and additional online resources for more information.. THOUGHTS: A worthy addition to any school library collection, as titles focus on state standards in analyzing and interpreting primary and secondary sources for critical thinking.
304.8 (Immigration); 973.7115 (Underground Railroad); 323.119 (Civil Rights); 940.5318 (Holocaust)   Vicki Schwoebel, Friends' Central School