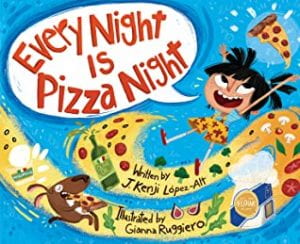 López-Alt, J. Kenji. Every Night Is Pizza Night. Norton Young Readers, 2020. 978-1-324-00525-4. Unpaged. $17.95. Grades K-3.
Pipo is a young scientist, and she has done many tests to prove that pizza is the best meal. Pipo loves pizza so much, in fact, that she makes it every night, despite her parents' desire (and encouragement) to try something new. Local neighborhood grocer Mr. Gonzales even knows Pipo's list by heart. Pipo travels around her diverse neighborhood to collect more data because "a good scientist always wants more data." Her neighbor Eugene makes an old family recipe bibimbap, and Pipo's reaction has her questioning if it may be better than pizza. She leaves to collect more data around her neighborhood, trying tagine, red beans and rice, and dumplings. Mr. Gonzales, who knows everyone and has tried everything, helps Pipo realize there isn't only one best food, but Pipo needs science to help her accept this theory. Subtle hints n the decor will show a careful reader more about each neighbor's recipe and cultural background.
THOUGHTS: Ruggiero's colorful, lively illustrations bring Pipo's spunky personality to life. With Pipo's pizza recipes at the end, this will be a fun addition to any elementary library. Use this title as an exploration of the scientific method, communities and neighborhoods, or as a great way to talk about cultural foods.
Picture Book          Maryalice Bond, South Middleton SD