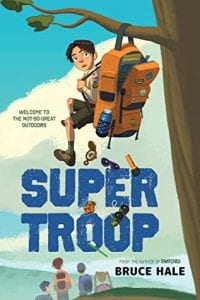 Hale, Bruce. Super Troop. Scholastic, 2022. 978-1-338-64599-6.  276 p. $17.99. Grades 3-5.
Cooper and Nacho are best friends – and partners in mischief – which, naturally, continually gets them into trouble. Big Trouble. Particularly after the stunt they pull on the pirate ride at their local theme park. The end result!? The boys' families enroll them in Boy Rangers as punishment and to teach them discipline. A whole summer of dorky Boy Rangers. And if Cooper quits? The graphic novel camp he's been dreaming of all summer becomes just that: a dream. The boys reluctantly join the Boy Rangers and soon encounter a new scoutmaster, Mr. Pierce, whose goal is to make their ragtag troop into the best in the area after the old scoutmaster quits rather than have girls join the troop. Their troop has a lot to learn if they are to qualify for and win the Ranger Jamboree. A disastrous camping trip and the resulting review of the scout master gives the troop members an opportunity to find their voices with the adults in their lives. In the midst his trials and tribulations with Boy Rangers, Cooper decides that this should be the summer he brings his divorced parents back together. The problem is their lives have moved on, and his efforts result in a series of stumbles that will be relatable to many children living in divorced families who just can't quite let go of the dream of the family they once knew. In the course of the book, Cooper discovers himself and realizes that the family he once felt was broken has simply grown larger and different.
THOUGHTS: I selected this book because I was looking for realistic fiction with primarily male main characters.  Between the covers, I found an adventure that integrates nature, friendship, and the main character's evolving thinking about his parents' divorce. Super Troop is told through Cooper's voice and contains a diverse cast of characters–without an obvious focus on their diversity. Occasional illustrations by the author break up the text as do a few texted conversations between Cooper and his friends. I can think of many readers who will enjoy the adventures in the pages, particularly my students involved in Scouts and struggling with divorce. A solid addition to any collection looking to develop its offerings to boys, reluctant readers, and those seeking insight on divorce.
Realistic Fiction          Hannah J. Thomas, Central Bucks SD